Have you ever bought something and then soon after, realized you shouldn't have made the purchase and wish to cancel? Imagine if this happens on your Jumia purchase? How will you go about it? That's what we'll talk about in this article, how to cancel order on Jumia.
Jumia is the largest online store in Kenya and Africa. Its affiliate program is the most lucrative affiliate marketing platform in Kenya.
You can access Jumia via your phone or using your desktop or laptop when logged in to the internet. A lot is available on the Jumia website, your options are surely unlimited– you can buy anything from electronics to clothes, to groceries, to games, and even baby stuff.
Maybe you don't have anything in specific you would like to buy, but you want to check what's trending, you can check on Jumia because their range of goods is large, and the quality of their sales is also high.
Besides, they have a lot of various deals on their website, such as discount offers, and there is a useful section of recommended goods, which shows a customer all the best deals along with the products of high demand.
Jumia delivers only original and genuine products to their customers, as their terms and conditions emphasized. If you are not comfortable with the terms and conditions, then you are advised not to transact with them.
It is also important to take note that the site reserves the right to modify or remove portions of the existing Terms and Conditions of sale at any given time. They track their sales every day to make sure the production listed on their website meets all the standards.
Purchasing commodities on Jumia is easy – you only have to register, add all the necessary items to your shopping cart, enter your shipping information, and then confirm your order.
You can also choose a payment method. Usually, you can pay via MPesa that is, Pay on Delivery, Jumia Pay, and debit card.
However much Jumia has put measures to ensure their customers are happy, delays are inevitable due to unforeseen reasons, and the company takes no liability for delay or failure to deliver the order within the estimated timescale due to unavoidable circumstances.
In the case of ordering something but you would like to cancel the already purchased product, do not panic.
How to cancel order on Jumia in Kenya
Go to "Hi (Your Name)" Menu Item and select "Orders"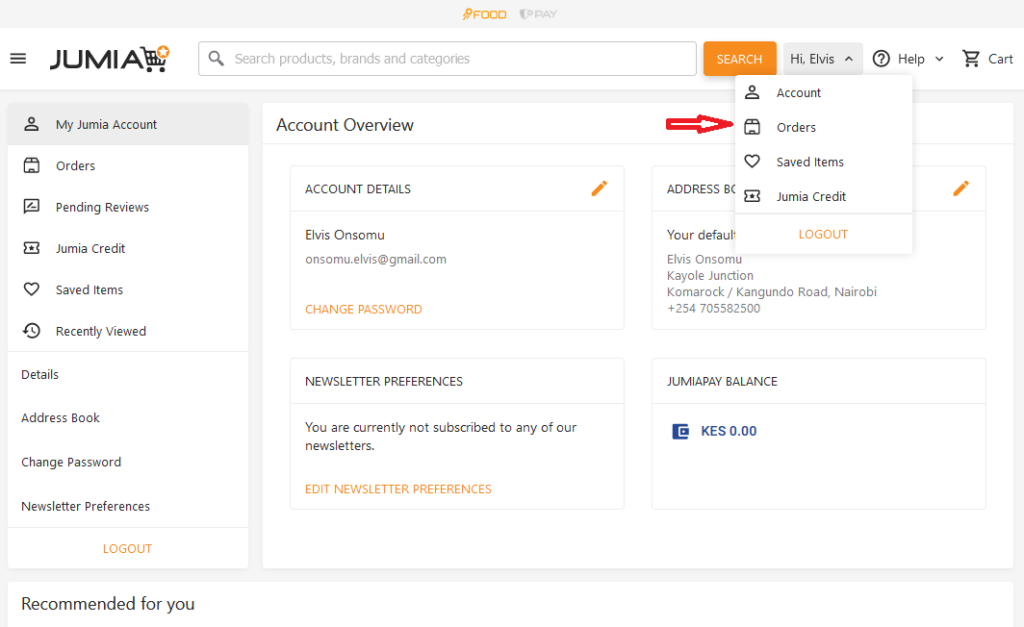 Navigate to the order you wish to cancel and click on See Details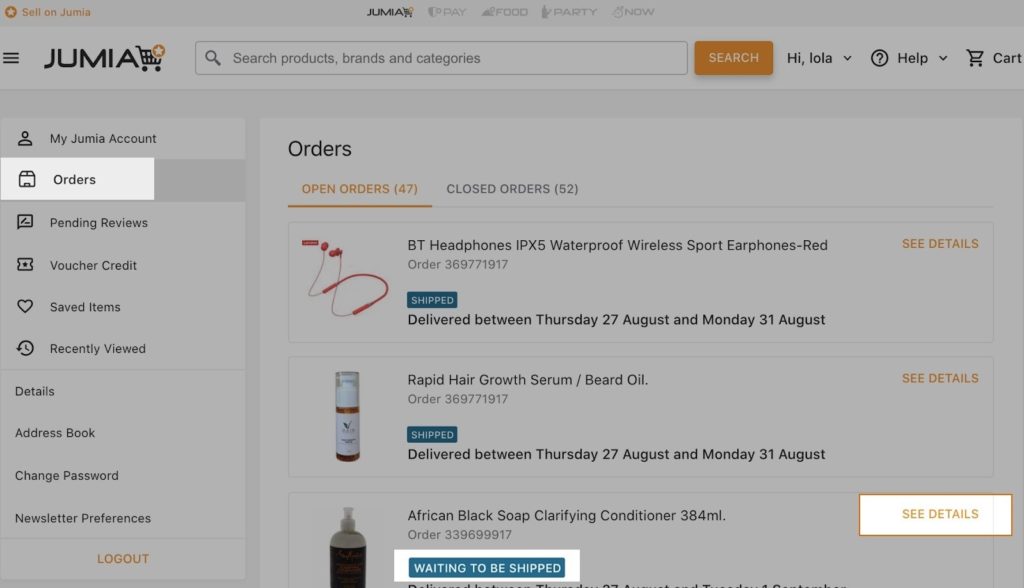 Click the Cancel item button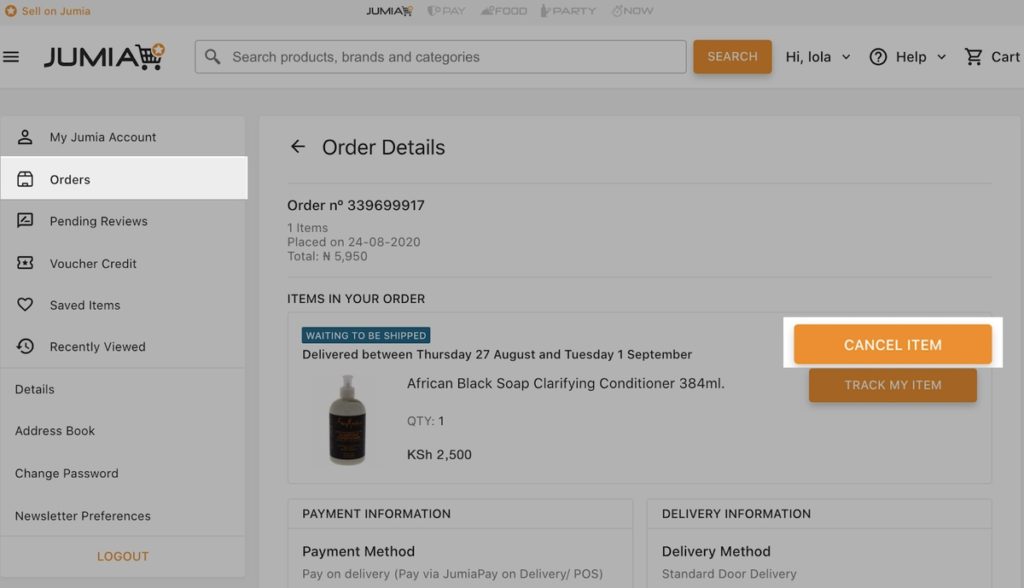 Select the right quantity and cancellation reason from the drop-down list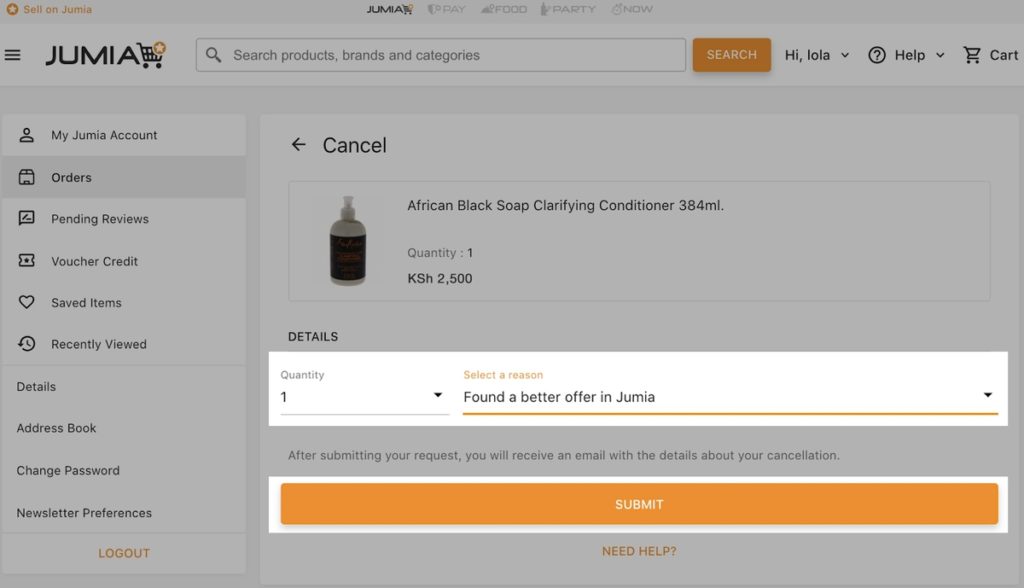 How to cancel an order on Jumia using Email
Log in to your Jumia account
Click on the "Help" menu item and then, select "Contact Us" at the bottom of the list.
Next, click on the "Cancel Order" (orange button).
Enter your contact name, email and order number in the fields provided.
Under the subject list, select "I want to cancel my order"
State your reasons for order cancellation under the description field and lastly,
Click on the submit button to send your email.
Cancelling an order on Jumia should be that swift and convenient, your order cancellation should take up to two business days to complete for you to get your refund. However, cancelling an Order on Jumia Kenya depends on the stage of the order
First, you can only cancel your order if it is in waiting to be shipped status. If it has already been shipped, you cannot cancel but rather you can reject delivery. For orders on the delivered status, you can create a return request from your account.
Also, refunds are paid through your Jumia Wallet within 24 hours. Feel free to visit the website page for more information.