Network technology enable us to receive services remotely. Yet the biggest challenge with systems built on this innovation is the occurrence of delays caused by technical issues. KPLC token delay is one such challenge.
Kenya's largest electricity distributor introduced the token system to enable prepaid customers to buy KPLC tokens which act like electricity airtime from the comfort of their homes.
This sophisticated technology not only proved efficient but also reduced the interactions between customers and KPLC service persons. Yet whenever system delays happen, we are forced to go back to the traditional ways where we must interact with a customer care agent to solve the issue.
KPLC token delays are rare. I've never encountered such an ordeal. However, considering the large customer base KPLC has, I know such things can happen. They normally take place during upgrades especially on the software controlling the transmission of electricity.
In January 1998, the Kenyan Government restructured the energy sector separating the generation and transmission sectors from KPLC. This resulted in three unique but dependent companies; Ken-Gen for power generation, KETRACO for power transmission and KPLC left to distribute energy.

Fun Fact
Just like any other service company with a large number of customers, regular updates have to be made on KPLC software to ensure bugs are fixed and efficiency is maximized. Occasional major updates can also be made especially when loopholes in the system which allow mischief and cause huge losses are discovered.
Enough with the banter.
KPLC token delay types
There are two kinds of delays that may occur while recharging electricity bundles. First, you could purchase tokens using MPesa then the message containing the 14 digit token number delays. Such a case is very rare but it could happen.
Secondly, you could purchase a token, receive the token number, fed it into the meter and submitted but your tokens fail to recharge immediately. This scenario happens especially during upgrades as discussed earlier.
In either scenario, the first thing you ought to do is be a little patient. Waiting for 10 to 20 minutes especially when not in a hurry wouldn't hurt. However, if the delay goes beyond 20 minutes, then there is a need for action.
Channels for KPLC help with token delays
KPLC provides several outlets which one can use to get service. I'm going to order them in order of response speed based on personal experience and information from reliable sources
1. Kenya Power Contact Center
KPLC has a dedicate contact centre where all your needs will be directly addressed. In case the delay is mostly on the recharging or you are a little impatient, reach these agents by calling the numbers: 97771.
This will connect you to the nearest available customer care agent who will indulge with you to have the matter solved. Expect to be asked a few questions to prove your identity and provide information on the latest transactions you've made.
2. Twitter
I have lived in places with regular power cut-outs and I can attest that whenever I message KPLC Customer Care Twitter handle, I get a response within 5 minutes. I'm not sure if their Twitter agents are the best employees or it's pure luck.
Companies understand the implications Tweets have on them based on the aggressive KoT (Kenyans on Twitter). Which is why most have resolved to use the social platform to serve their customers and build their reputation.
So if you're experiencing any token delays, and you have a Twitter account, sent them a tweet of direct message @KenyaPower_Care
3. KPLC Self-Service Portal and App
It was about time KPLC introduced a self-service portal that would ease customers' frustration by providing them with a platform to access information and seek help without directly interacting with customer care agents.
The Self-service portal is accessible either by a web portal or by android app. To register either go to self-service.kplc.co.ke and register or download KPLC android app and set up your account. In both cases, you'll be sent your login password either through SMS or Email which you'll use whenever logging into the portal.
The most useful aspect about the self-service portal is that it displays all the transaction of any given account or meter number. So in the rare case that you buy tokens and misplace the message (or bill if purchased from an agent) containing the token number, the self-service portal will display all that information.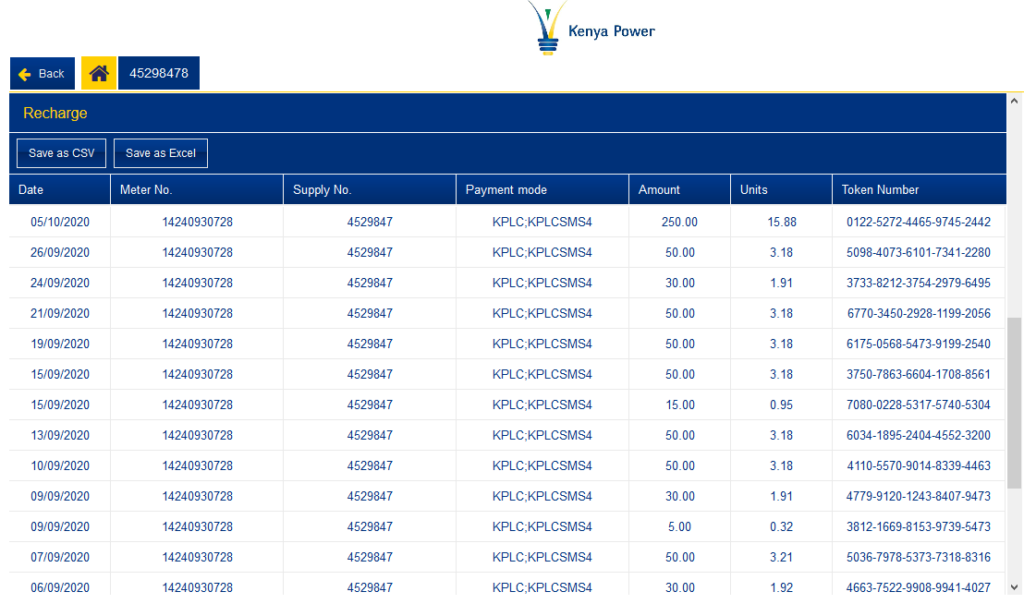 4. Facebook
Another social media outlet that KPLC uses to reach its customers is Facebook but the response here is quite disappointing. In most cases, customer complaints are posted as comments of KPLC's posts which makes it hard for them to be served individually.
It is the equivalent of a teacher listening to tens of questions asked by students at the same time. So instead of commenting your problem on the comments sections, it would be more prudent to reach them through direct messaging.
KPLC Facebook page has thousands of followers who engage with the page daily. Even if there was a dedicated section of KPLC Facebook correspondents, it would be difficult to serve everyone without missing some people.
5. Dialing KPLC USSD Code
To access SMS services from KPLC, dial *977# and go through the items provided to identify the most useful in taking care of your token delay issue. For instance, if you fed the token number into you meter but experienced a delay in token recharge, you can use this service to check your electricity balance.
If the balance has been updated on the SMS platform and your meter hasn't received the tokens, it means there is a disconnection between the two systems. Hence now when you call or message a customer care agent, you can specify the exact point of error and thus have your issue sorted instantly.
6. Email
I'm not sure whether Email is still a viable point of customer care services but since it's an option with KPLC, we have to take note whatsoever. For customer care services, email KPLC at customercare@kplc.co.ke.
Remember conversations through emails can be very slow especially with Kenyan companies. Your email might get a response after a couple of days if not weeks. So this option should probably be your last resort if none of the other is working. The next obvious step would be visiting a KPLC office within the locality.
7. Telegram
The young innovative people at KPLC might have suggested to the company to come up with a telegram bot that complements the self-service portal. This bot is programmed to answer simple questions and help in performing simple tasks like purchasing tokens.
However, the functionality of such bots is limited especially when dealing with challenges such as token delays and account errors. KPLC Telegram Bot is currently not functional and will be of no use in such an ordeal. Hopefully, it will be rebuilt again to serve customers.
8. Visit a KPLC Office
Of course, when every other method has failed to resolve your KPLC token delay issue, you need to visit these people in their offices and give them a piece of your frustration. In this century, with the kind of technological advancement we have, online solutions should solve such mere issues and no one should have to walk to company premises to be served.