Alison is one of the largest online education platform in the world boasting of thousands of diploma and certificate courses, 13 million registered learners and over 1.5 million graduates. If Alison were to be a university, it would accommodate all current university students in the entire East and Central Africa.
Yet, Alison is a free platform, founded in 2007 to promote accessibility and equity in education, making it possible for anyone to study anything, from anywhere at any time.
Alison courses focus on work-based skills thus relevant in today's generation and are constantly evolving to meet surging public needs. Every single day, tens of high-quality courses are added.
At the heart of Alison's mission are values that include; empowerment through transformative education, expert knowledge dissemination, inclusivity of everyone regardless and innovation for a better world.
Alison's business model involves utilization of site ads, merchandising and sale of certificates to provide learning materials at no cost to the learner.
Structure of Alison Courses
Alison has grouped its online courses into several categories including; IT, Language, Science, Health, Humanities, Business, Math, Marketing, Lifestyle, Software Development and Engineering, Operations, Finance among others.
Certificate level courses require 2 to 3 hours of study while the in-depth diploma level courses require 10-15 hours of study. Once completed, a learner undertakes assessment tests, which require a minimum score of 80% for one to pass. There is no limit of time in going through the courses and you can retake the tests as much as you want.
On completion of an Alison course, you become an Alison Graduate; entitled to a downloadable copy of your learning record. If you want something official, you can purchase and ship your certificate at a total cost of around Ksh. 6000.
Alison also offers Learning Paths; a combination of niche courses that have been specially designed by experts, with an average completion time of 18-20 hours. They purpose to help you: broaden skillset, progress your knowledge and master a subject.
Sample of Alison Courses that are Marketable in Kenya.
Business
Diploma in Project Management
Certificate in Supply Chain Management
Diploma in Human Resource
Diploma in Customer Service
Science
Certificate in Solar Energy
Diploma in Human Anatomy and Physiology
Certificate in Design Thinking
Marketing
Diploma in Marketing Management
Diploma in Public Relations
Certificate in Growth Strategies for Business
Software Development
Diploma in Python Programming
Diploma in C# Programming
Diploma in HTML5, CSS3, and JavaScript
Software Engineering
Certificate in Operating Systems
Diploma in DevOps
You should realize that most of these courses focus on practical skills that will give you an added advantage over your peers. If interested already, Sign up here.
Accreditation
The most significant question learners ask themselves is whether online courses are accredited or recognized by their education system and corporate world. Can you present an Alison Certificate to a potential employer and earn consideration point from it?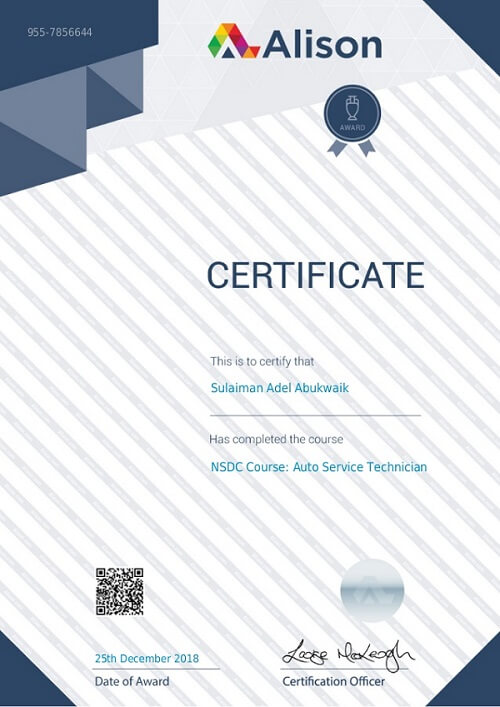 Alison certificates are neither accredited nor recognized. However, Alison Courses are well known and accepted throughout the globe due to their adherence to standards set by Microsoft Corp, British and Australia Learning Systems. They match the standards of any particular course offered in an accredited institution.
Therefore, as for Kenyan learners, Alison Certification is mainly meant to be beneficial to you. Many degrees and diploma programs in Kenya don't meet the required standards due to unqualified and lazy staff among other reasons. That's why there are so many quacks in the name of graduates today.
What better could you do than take up an Alison Diploma of the same field or from a complementary field to keep up with international standards and advance your knowledge and skillset.
And one thing for sure, between two Kenyan university graduates, one with an Alison Certificate, the other without and all other factor kept constant, the former will definitely have better chances. Passion and extra effort are admired qualities in the professional world. Multinational companies especially love this.
Why don't you Grab yourself an Alison Certificate?