One thing I would do given the chance to restart my blogging career is learn from experts. I would take content writing courses earlier to find out what works and what doesn't. That way, I would focus on the right things and improve my chances of success.
Unfortunately, I took the longer path of learning from experience. It was painful and frustrating. Please don't go down that road. Accept that you know nothing and learn from experienced professionals. Take these online courses on content writing, and you'll thank me later. This stage of course-taking is the internship in the entrepreneurial journey.
Free Courses
When starting, you might not have the money to invest in premium courses. These free courses, though, can give you what's worth paying for.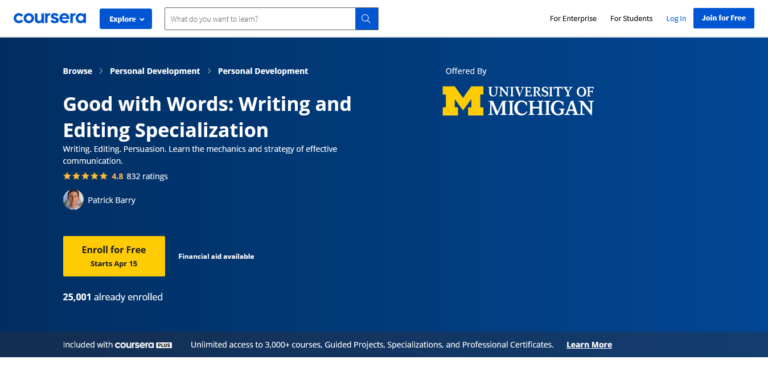 This is a course by Barry Patrick, a University of Michigan Law professor. Barry dedicated his profession to teach ways of developing new vocabulary to talk about advocacy. He has published four writing advice pieces published by Maize books. He teaches students and professionals to become good with words and improve their effectiveness.
You learn
How to become more persuasive through creative syntax techniques and storytelling
Strategies of arranging complex information into simpler bits
How to be a better architect of information both with your sentences and paragraphs
How to plan and draft before your start writing, thus solving writers' block
Editing and proofreading your work the right way
Over 24,000 students have enrolled for the course on Coursera, and it has a rating of 4.8 from 831 reviewers at the moment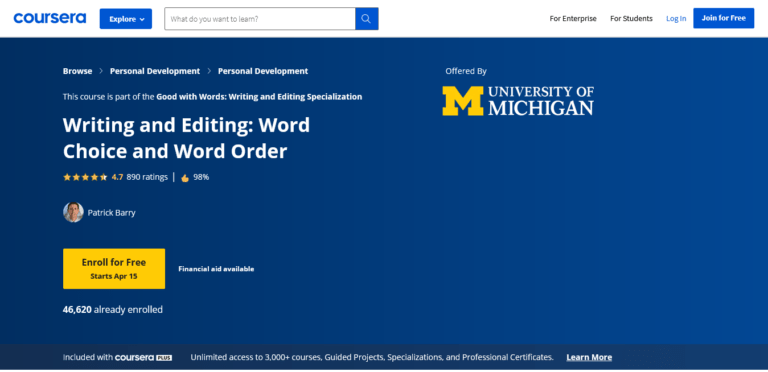 In this course Barry Patrick specializes on punctuation and sophistication to professionalize your writing. You also learn creative ways to communicate and tell stories through writing and make complex information seem simple to readers. Some of the top picks include:
How the words your choose can change the decisions people make
How to be original and produce creative content and copy that is unique
How to use syntax strategically
How to arrange complex information in a reader-friendly manner
Over 46,000 students have enrolled for the course, which has an approval of 98%. You also learn; persuasion, creativity, time management, and professional editing skills.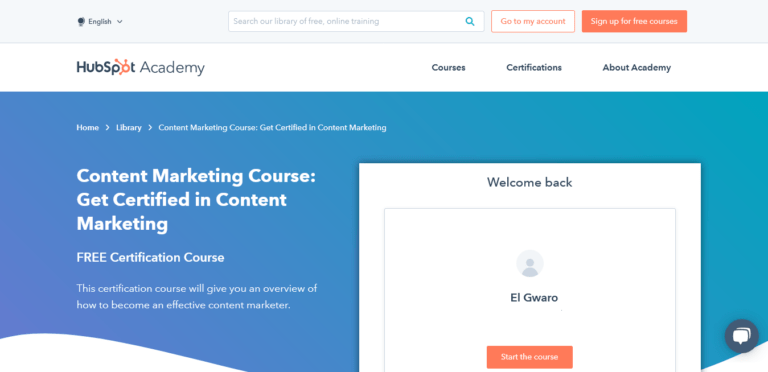 Hubspot is a leading platform for automation of processes for online businesses. One of its core elements is Content Marketing, under which content writing falls. This list cannot be complete without a mention of their free certification course. The course is designed for content producers and aims to teach the following
How to build a content creating framework for producing compelling content consistently
How to create and repurpose content to appeal to both the people and Search Engines
How to become a better content marketer
For those focused on content writing, you'll learn about
The power of storytelling
How to generate content ideas fast
Writing blog content that your readers will love
Over 250,000 certified digital marketers use the certificates to prove their skills and beat competitors. You should consider this course if you're serious about your online business.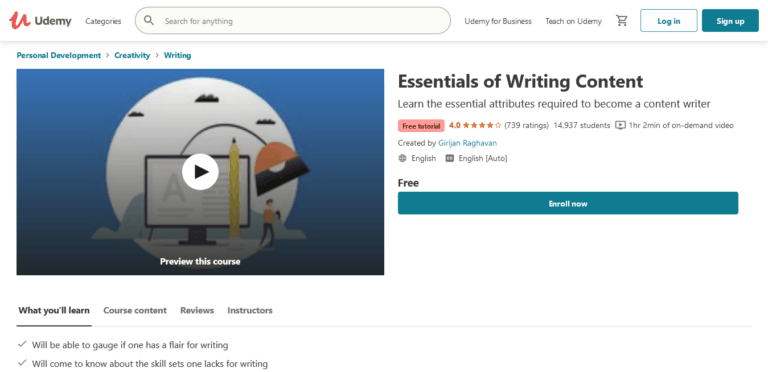 To be an effective digital marketer or a content creator, you need to become a better writer. That cannot be compromised. This 1-hour free course by Girijan Raghavan offered on Udemy is all about making you're an efficient writer. It reiterates the importance of hard work, dedication, and passion in content writing and enforces the need to for practice. You will learn
To gauge whether you have a good flair for writing
To identify what you lack to become a better writer
Ways to improve your writing skills no matter your current position
Over 15,000 students have already benefited from this course. It should be a priority for you if you're struggling with writing.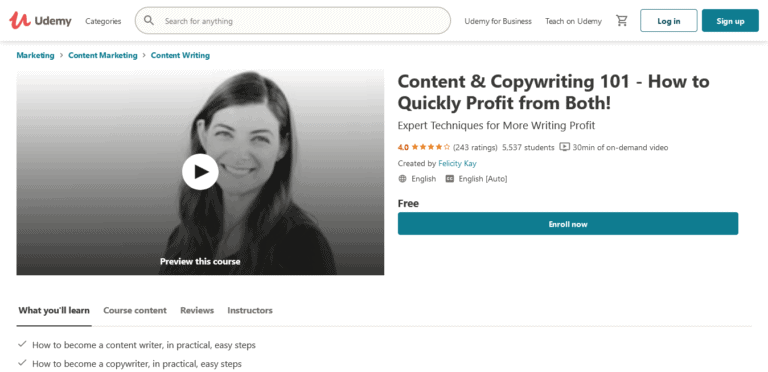 Another goldmine for content writing tips from Udemy primarily because it also touches on copywriting. As you progress with content writing, you'll realize how vital copywriting skills are for any online business. Felicity Kay, a fashion editor, and stylist teaches expert techniques for more writing profit. You learn
Step by step process to becoming an efficient content writer
Easy steps to become a copywriter
How to make money quickly and effortlessly using your content.
The course puts both bloggers and freelancers in mind empowering them to earn a decent living from writing. Over 5500 students have taken the 30-minute course, rating it 4/5.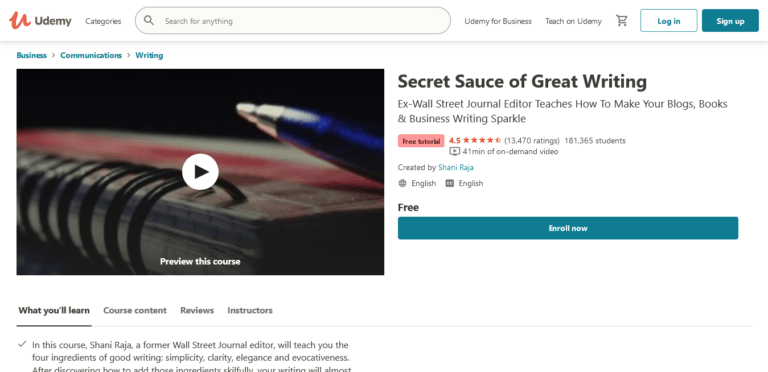 Another course you cannot overlook is this by Shani Raja, a former WSJ editor that compresses over 20 years of editorial work into a 41-minute video. It elaborates the ingredients of good writing, which include; Simplicity, clarity, elegance, and evocativeness. From this course, you'll learn to stand out above the multitude of mediocre content writers. This course is designed for
Those who want to upgrade their writing skills to enhance their careers or businesses
Blog, books, and business writers who wish to craft their prose to look more slick and professional
Marketers, communication professionals, and copywriters.
As a content writer, these expert tips can significantly elevate you in your profession. Over 180,000 students have taken this course which is one of the most in-demand courses on Udemy.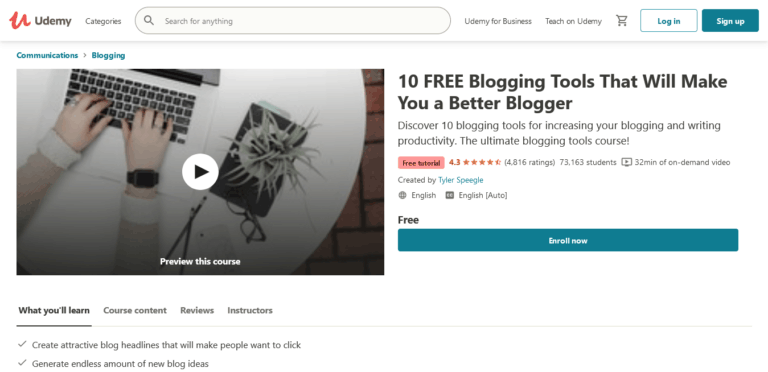 Excellent content writing is not all about writing; you need to right tools to enhance your writing and marketing efforts. And that's what this course is diving into; the tools you need to become a better blogger or content writer as a whole. The course has been assembled by Tyler Speegle, an inspirational blogger who has featured on Huffington Post. In addition to the tools, it teaches
Writing attractive headlines that captivate people
Generating an endless number of blog ideas
Create good graphics for your blog to improve professionalism and increase brand awareness.
Where to get professional photos for your blog
Set up alerts to notify you when your content is shared online.
All you need is a smartphone or a computer with an internet connection to go through this course. Some of the over 73,000 students who have taken the course believe the tools revised are indispensable for any blogger or digital marketer. How about you find out what they are.
Paid Courses
While free courses can be very instrumental, paid courses have something worth being paid for. Let's looks at some of the best premium content writing courses from course marketplaces.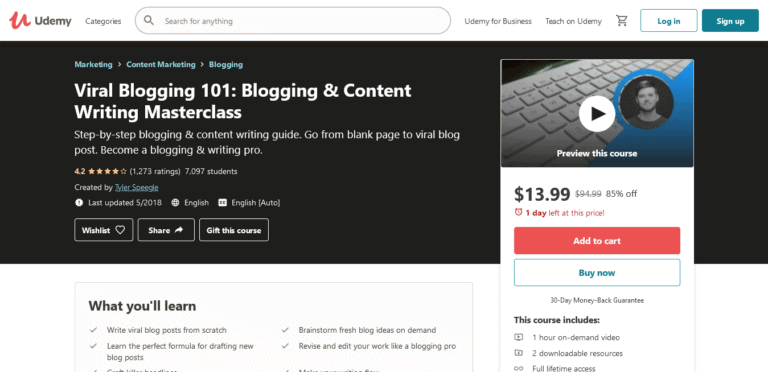 Every blogger wishes their content can go viral. Because with more traffic comes more money and other opportunities. Well, not everyone knows what to do to get to that level. This course by Tyler Speegle, who we've mentioned earlier, might be all you need to know what it takes to writing content that goes viral. The course delves into
How to write viral blog posts from scratch
The best formula for drafting new blog posts
Brainstorming fresh blog ideas on demand.
Writing Killer headlines
How to make your writing flow
How to edit your work like a pro
Over 7,000 students have taken the course, with 20% of them rating it 4.2/5. One student praises its methodical and practical teaching, which brings clarity and confidence to content writing.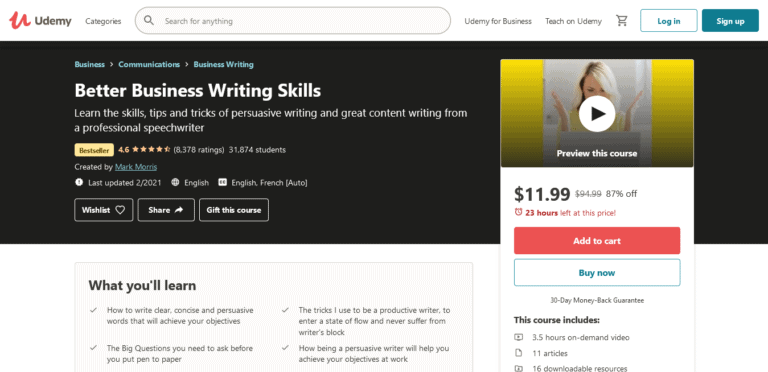 Politicians have a knack for words that influence decisions. Convincing is their full-time job. And Mark Morris has spent over 25 years writing for senior politicians in the British Parliament. He has also written articles for newspapers and magazines such as WSJ, The New York Times, Wired, and Newsweek. He has packed all that knowledge in this 3.5-hour video course with additional resources. You'll learn
How to write concise and persuasive words that achieve your objectives
The ancient secrets of compelling writing
How to structure your work for maximum impact
Tips to be an effective writer, to enter writing flow and never experience writer's block
Professional editing tips
How to test the impact of your work to make sure it does what you want.
Over 31,000 students have taken the course, 25% of which have rated it 4.6/5. If your goal is to send a message and convince people through your content writing and have a few bucks to spare for lifesaving tips, then this is where to look.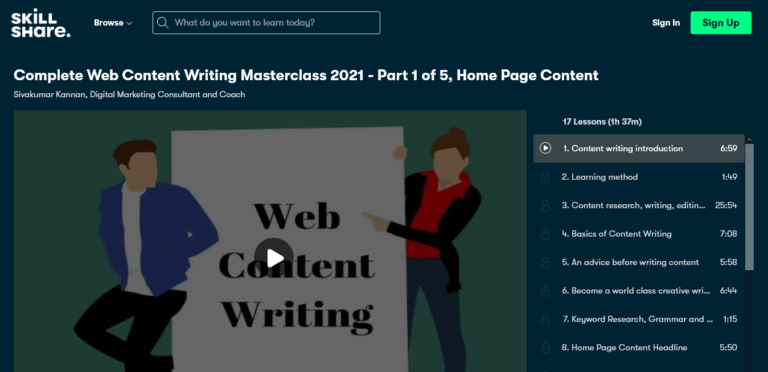 If you're very new to content writing, you've just launched your blog and want to hit the ground running; this course will improve your strategy. Created was by Sivakumar Kannan, a digital marketing consultant and owner of Head North Digital. It offers excellent content writing tips with good examples and differentiates copywriting and content writing. What you learn
Content research writing and editing
Creative writing in content creation
Keyword research punctuation and grammar
Using images, Call to Action Lead magnets, benefits, and social proof to improve conversions
1,400 students ranging from digital marketers, bloggers, freelancers, and content writers have taken the beginner level course. It is succeeded by related modules as you progress with learning.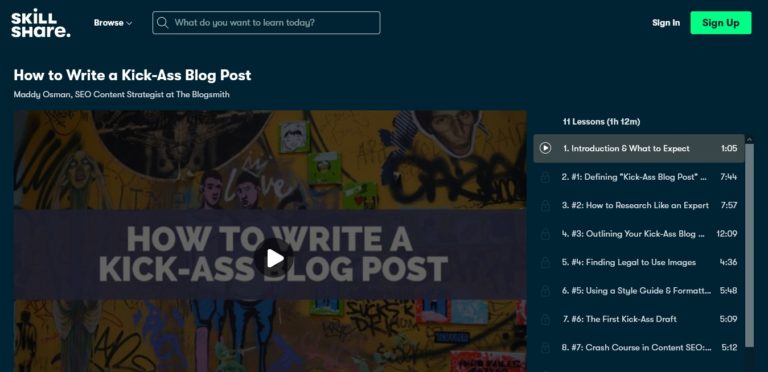 Blogging is nothing without excellent content writing. And while millions of blog posts are published every day, only a few, less than 10%, ever get people's attention. Why? Because the rest are mediocre.
This course was created by Maddy Osman, an SEO Content Strategist at The Blogsmith. She shares the content writing secrets that have helped her land clients and writing positions for companies like Search Engine Journal, Social Sprout, and Adobe. The course teaches
Resources and processes for creating quality content
Topic development Research and Outlining
Finding high-quality images for your posts
Formatting content for the web Using SEO best practices
Blog promotional tactics
Over 1500 students have taken the course, which contains two projects to help you learn and implement the tactics taught. If you want to kick-ass in blogging, then you should consider this course.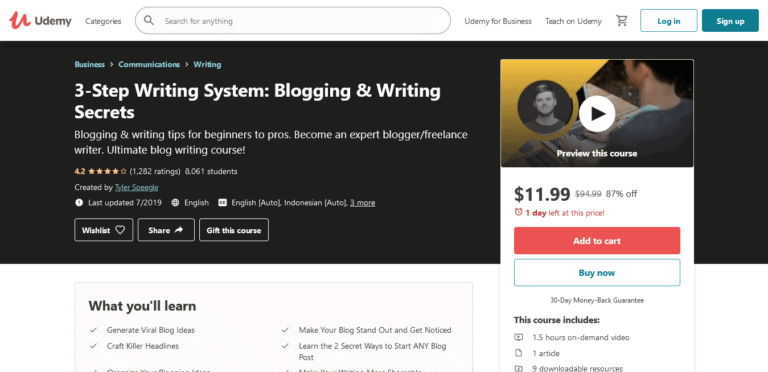 Another course from Tyler Speegle where he teaches you a system to follow and consistently produce high-quality content that makes your blog stand out. In this course, he packs his three years of experience as a content writer and copywriter for top online publications. He teaches the writing and blogging secrets he learned to save you a ton of useless work and frustration. Some of the things you'll learn include
A 3-step proven plan that will make you a PRO blogger
2 secret ways to start ANY article
The secret to keeping new ideas flowing, so you never run out
A practical plan for writing one killer article every single week
Revising your writing like a professional
Optimizing every blog post
How to make your writing attract social shares
Over 8,000 students have taken the course and rated it 4.2/5. Tyler must be a master in the content writing space for consistently giving value to his audience through his courses. If you're fond of "secrete recipes to success" or proven strategies to achieve writing goals, then this course is worth your time.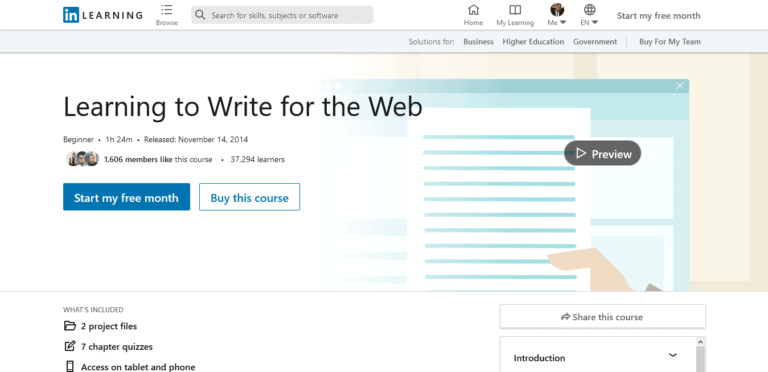 LinkedIn is another platform with resourceful courses. One such course is this LinkedIn course by Christopher Nodder, an interaction design specialist. Nodder states that people scan more today than they read. So content writers must write with a mission to appeal to readers and enable them to acquire information faster. The course will teach you
7 practical techniques for writing successfully on the web, including front-loading content
Writing at the suitable grade level
Simple writing by avoiding jargon
Keeping content up to date.
The course has enrolled over 30,000 students since it was released in 2014. 1,600 students have rated it highly. It's the LinkedIn certification awarded after completing the course should be motivate you to take it. That cert puts you above the rest.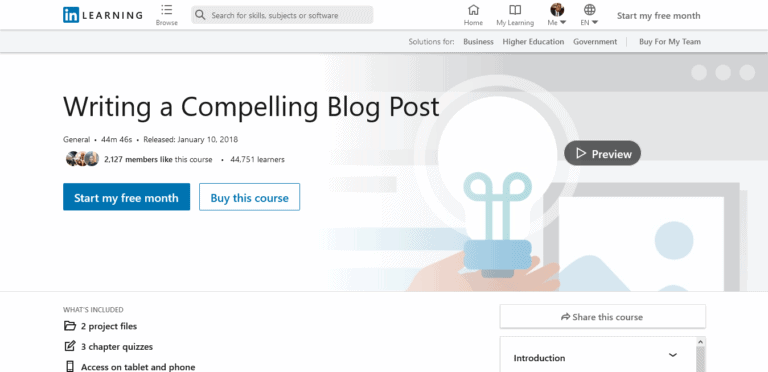 If you thirst for the secrets to compelling content writing, this course by Starshine Roshell, an award-winning journalist and writing coach, should quench your thirst. Starshine has compressed her years of experience into this 45-minute crash course to help you hit the road running in content writing. She teaches
Content structure and style strategies to captivate your readers
How to turn your expertise into concise, passionate, and insightful posts
How to establish a regular writing practice
How to develop your voice
Brand awareness strategies to build your business
How to deal with negative criticism
One thing you're sure to get while growing an online business is negative criticism, and most people don't know how to deal with it. This course which has enrolled over 44,000 students, should help you in that sector decides other strategies to grow as a content writer.
Top bloggers Courses
Online courses from experts and professionals in the digital marketing space can help develop skills and strategies for online success. However, nothing beats the guidance from someone who walks the talk. In this case, bloggers kicking ass and securing the bag through the strategies they teach. The techniques taught in their courses are unique and can prove effective for any content writer that perfects implementation.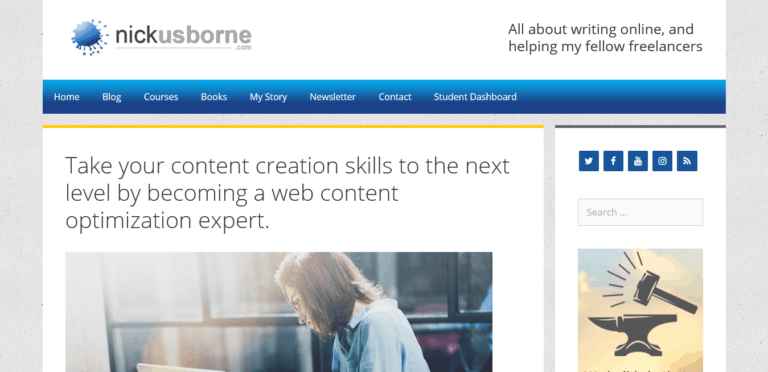 Nick Usborne teaches online writers and company professionals how to write on-purpose content optimized for the web to triumph over the excess mediocre content on the internet. While growing his blog to a popular resource for online writers and freelances, he accumulated content optimization strategies for online success. You learn to optimize content
For Search Engines
To attract inbound links
To Generate Leads
To build relationships
For social Media
To Pre-sell
For the seasons and holidays
Most of these tips are based on unique personal experiences, which signals the possibility of discovering golden strategies that would work for you. If you want to shorten the time it takes to achieve your content writing goals, such courses are necessary. They show a tried and tested route to success.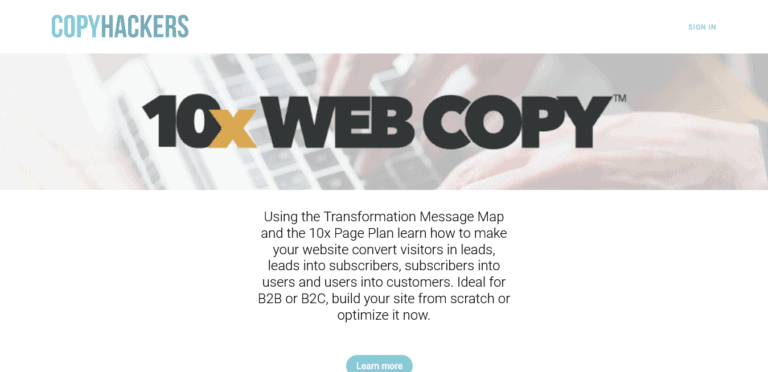 $2000 for a course? I know you're startled. But this is no ordinary course. From a blog that helps the top 1% of marketers master revenue generation, this course could be the best investment you'd make if you're starting.
It's a very extensive guide with four serious modules that shows you how little you know. Once you're done, you'll feel like a professor in content writing. As one student reviews, "Do not write another page until you take this course." Due to its origin from expert copywriters, you also learn to write content that sells, especially in module 3, which focuses on
For those with a handsome budget for their blogs and companies who can invest in training their employees to produce great content, this course is for you.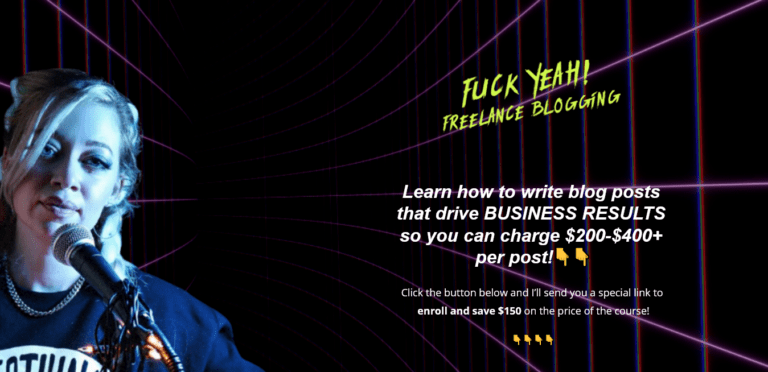 An interesting name it is, but what's surprising are the exclusive tips that Jorden teaches her students in the course. Basing the course on her wild success with cold emailing and acquiring high-paying clients for her blog post.
Jorden compresses the experience she's had with her success in her Writers Revolt blog and hands it out in bits that are both practical and effective. Many of her students have attested to scaling their content writing profession using her tips and earning more money in the process. She teaches
Her step by step process of landing high paying gigs working with influencers
How to get page one SERPs Ranking
Creating blog posts with 5 figure share numbers
Writing better faster
If you're starting your content marketing career, whether a blogger or freelancer, this course can boost progress and make you money sooner.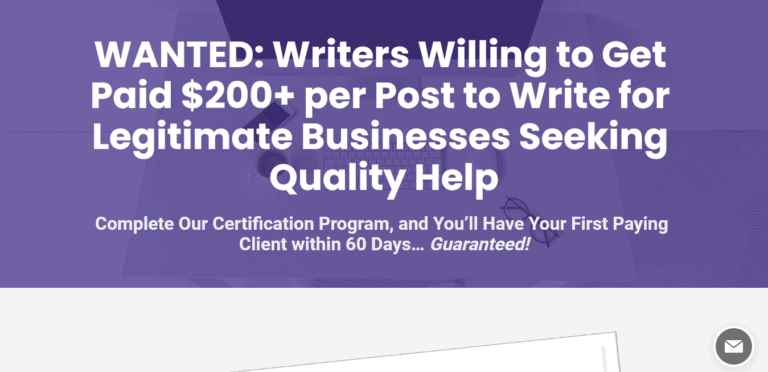 Another hefty price tag indeed, but wait till you hear the back story. Jon Morrow is considered one of the highest-paid freelance writers in the world. By the time he quit writing for companies and top publications to start his business, he was charging $5000 per post.
When you take the experience of a master in the content writing space and cram it into a 4-week course with recognizable certification that lands gigs within weeks, then you've got the ticket to stardom in content writing. Jon Morrow, the founder of Smart Blogger, will take you through every lesson he learned to get where he is; the crème de la crème. Some of these lessons include
How to promote your writing services in a natural non-salesy manner
How to get a full-time content marketing Job
Access to a private discussion group for exclusive for graduates of the course
Contract and proposal templates you can use to acquire high paying clients
Case studies and examples.
If you aim to become a top content writer and acquire gigs that could allow you to go for months without working, then this course could be your best shot. Honestly, I'm saving for this course.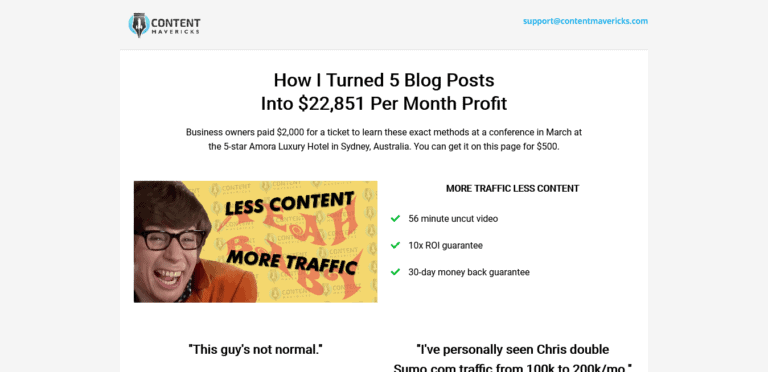 Chris is the founder of Content Mavericks, an online education platform that teaches businesses to focus on the two most critical elements of online success; content and audience. Through this beginner course, Chris reveals the secrets and strategies he taught business owners who paid $2000 for his seminar. The 56-minute uncut video course offers tips that guarantee ten times return on investment if applied by anyone no matter their professional stage.
The course's leading pick is how to attract more traffic with less content based on his case study of how he turned five blog posts into $22,851 per month traffic. Considering his wild success in content marketing to the point that Hubspot offered $10,000 per post from him and his case studies, such as doubling Sumo.com traffic among other achievements, taking this course should be on your bucket list.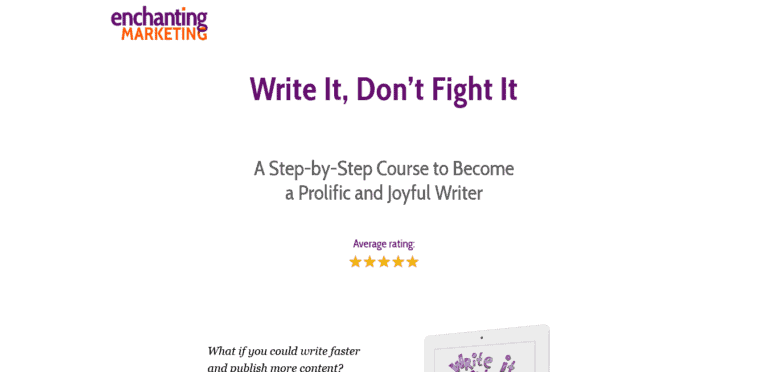 Henneke is the founder of Enchanting Marketing; an agency focused on teaching content writers how to write engaging content. Yet what surprises me the most is her blog's success. She is a native speaker and never thought of herself as a writer until she hit 40. At that age, Henneke dived into the content marketing space and consumed every resource possible to become an expert. Now she is regarded as one of the best writing couches you can come across.
In this course, she teaches you how to become a joyful and prolific writer in modules as follows
How to stop sabotaging yourself by toning down your ruthless inner critic
How to find the energy focus and achieve your goals by nurturing healthy writing habits and getting rid of unproductive habits
How to get unstuck and speed up your writing by mastering your writing process
Most bloggers don't understand they're their worst enemy. Our inner critic holds us back, and as long as we keep letting it, we never succeed. This course helps you get past that. You can have all the secrets to content writing listed in this article and still achieve nothing if you haven't conquered yourself.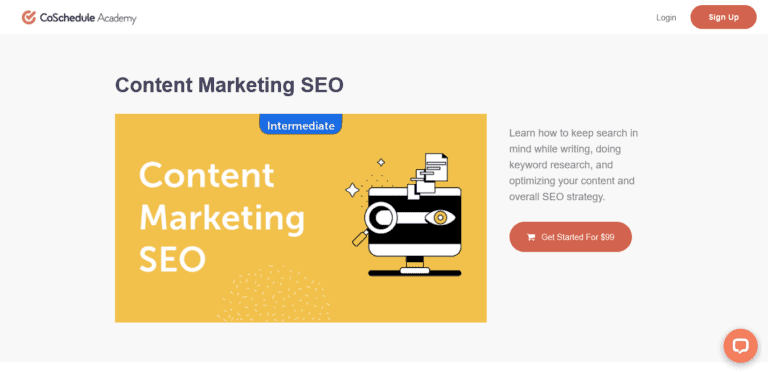 I know, CoSchedule is not a blog; instead, it's a SaaS company offering calendar marketing services. The team has capitalized on content marketing to grow brand awareness, making it a top recognized company on the web. They share SEO content writing strategies, making it a great resource for content writers, especially bloggers who need new approaches to up their online game. The course teaches how to
Tackle Keyword Research
Determine Keyword Intent
Determine Secondary Keywords
Avoid Common Keyword Targeting Pitfalls
Uncover the Best Content Marketing Ideas with SEO in Mind
Structure + Optimize Content for SEO
While it doesn't focus on content writing, it lays a good foundation for planning what content to write. Having an SEO mindset while considering users' experience is essential for any content writer's success.
Wrapping Up
Developing writing skills, particularly for digital content and blogs, is an imperative endeavor in today's digital age. The curated list of top content and blog writing courses provides an extensive selection that caters to a broad range of learner needs. Embarking on these courses will provide the requisite knowledge, strategies, and practical skills to master the art of persuasive, engaging, and effective content creation. Consequently, these courses are a significant investment towards personal growth and career advancement in content creation and blog writing, enabling individuals to stand out in this highly competitive digital sphere.