The KUCCPS portal will be opened on 1st September to 30th September 2021 to allow KUCCPS inter university transfers.
2020 KCSE graduates who were successfully placed in universities and colleges but didn't like the institutions they got are advised to grab this opportunity to secure a chance in their dream institutions.
To do this, one needs to initiate an inter university transfer request through KUCCPS portal. We shall cover this process step by step in this article.
KUCCPS student transfer was introduced to allow students who have restrictive financial and medical conditions, disabilities and preference issues to transfer to institutions where the conditions are bearable or with courses they prefer.
For instance, consider an asthmatic student placed in an institution around Mount Kenya region such as Dedan Kimathi University of Technology. He/she can seek KUCCPS transfer services and be placed in a low altitude university such as Egerton University.
If the cost of living of a student in a certain institution is high, the student would transfer to another with lower cost of living. Likewise, if a student has a certain disability and has been placed in an institution far away from home and care, he/she can seek transfer to a closer institution with better care for persons with disabilities.
KUCCPS inter institution transfer also enables students who don't like the course or institution they were placed in to transfer to a more preferable institution. Students can identify preferable course from other institutions of which they have met the minimum cluster points to transfer.
KUCCPS transfer is however not a guarantee for every applicant based on several conditions
The availability of spaces in the university a students want to transfer to
Stated reasons for transfer
Eligibility of documents used as evidence for reasons of the transfer.
Of the three conditions, the most important is number 1, whether there is enough capacity to accommodate new students in the new institution. If an institution's capacity in a certain course is full the institution cannot accept new students and hence the transfer is not possible.
Also, while you have a choice between financial, disability, course preference and medical reasons to base a transfer request on, it has been noted that medical and disability reasons offer better chances for successful transfers than financial and course preference reasons.
Why?
Because medical conditions and disabilities are out of control of a person. Financial conditions can be manageable especially with the availability of grants, HELB loans and bursaries for needy students.
Lastly, KUCCPS cares less on whether you get the course you wanted or not. They work with computer systems which calculate many variables to place you at any institutions.
Hence for most students, if you want to increase your chances of a successful KUCCPS transfer, you better have a convincing medical reason with eligible documentation (Certified Medical Report) to back it up. Work it out with your doctor. Wink*
What are the requirements for KUCCPS transfer?
Before you even start the process of inter university transfer, you out to be aware of the following conditions
For you to be allowed to transfer, KUCCPS must have already placed you on a program
You will only be able to apply to transfer to a course whose minimum requirements you have met
As an applicant to degree programmes, one must meet the applicable cut-off point for their respective placement year.
The program you are applying to must be on offer in the year you were placed by KUCCPS
You are allowed to transfer to only one program and you can transfer only once for the duration of the program placed.
Now, without farther ado, let's get into the process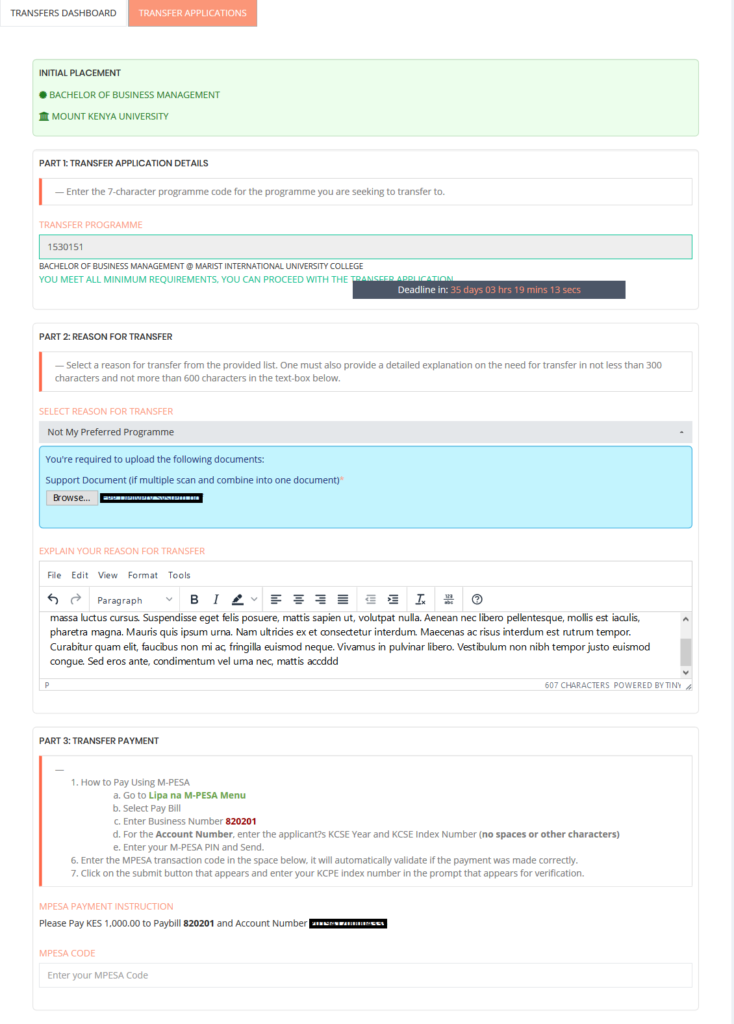 Steps to apply for KUCCPS Inter-university Transfer
Step 1: Identify Course
Visit http://student.kuccps.net. Search the course you would like to transfer to by clicking the Programmes tab above and searching for courses by institution, using the Institutions tab above. Once you have settled on the course, take note of the 7-Character Program Code
Step 2: Fill Transfer Application Details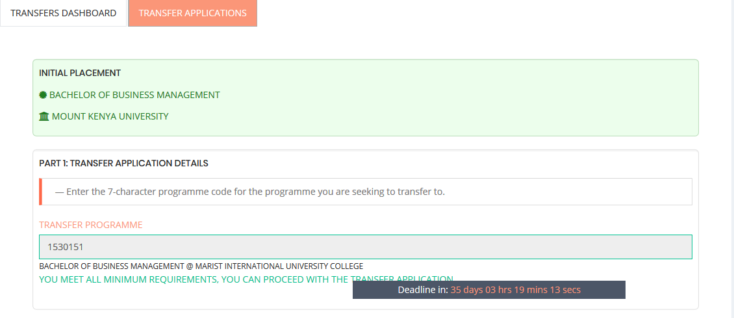 Go to Transfers at the top menu and click on Transfer Applications tab. Input the 7-Character Program Code you copied for the course you want to transfer to. You will only be allowed to proceed with the next step if you meet the minimum requirements for the course you are transferring to.
Step 3: Enter Reason for Transfer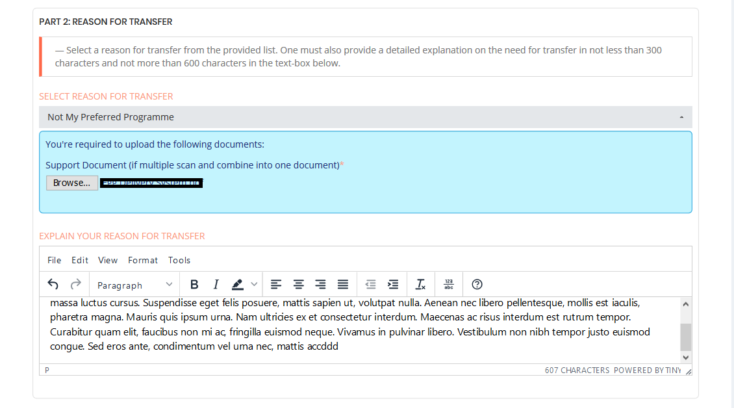 Select the reason for transfer which can be Medical, Disability, Financial Reasons, Not My Preferred Course or any other sensible reason. Upload an eligible document that acts as evidence for the reason you have selected. For instance, a medical report should suffice.
Write an essay with at between 300 and 610 characters explaining more on the reason for seeking the transfer. A character is a letter, punctuation mark or space between words. That means your explanation will range between 50 and 100 words.
Step 4: Payment through MPesa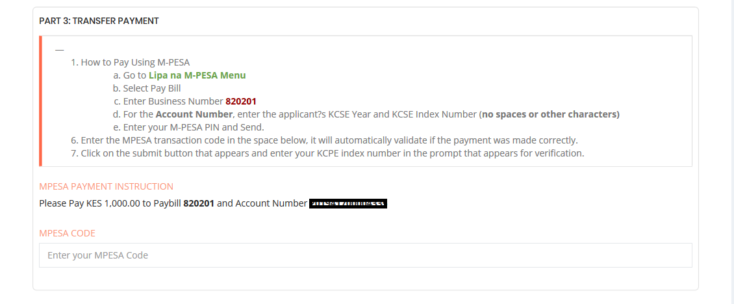 Read the instructions on how to use MPesa to Pay Ksh 1000 for inter-university transfer using KUCCPS Paybill number 820201 and KCSE Year + KCSE Index Number (no spaces) as your account number. Upon payment, input MPesa Code and click submit. Enter your index number if asked to do so and click submit again.
At this point, the online application process is over. What remains is KUCCPS's responsibility. All you can do at this point is be patient as you await communication from KUCCPS
Step 5: Endorsement by receiving institution.
Upon submitting your application, KUCCPS will first review the reason and supporting documents for the inter university transfer request. If it is satisfied with both, it informs the institution you are have applied to, of your transfer request and the course you want to do.
The institution will then refer to the faculty involved to check whether there is capacity for more students to be accommodated in the upcoming class. If there is space for more students, you are listed down in one database together with all other students who want to transfer to the same institution.
Now depending on the first-come-first-served basis and the cluster points of students who have applied, the institution accepts a number of the students which it feels it can accommodate. It then updates the acceptance status in the KUCCPS a process referred to as endorsement.
This process might take days, weeks and even one month to be concluded depending on the measures put by the institution in reviewing its capacity and the number of transfer requests received.
If a student does not secure a space in the available spots, he/she is rejected and the transfer application becomes unsuccessful. In such a case, the transfer application fails and the student will be forced to seek other alternatives to get what they want.
Rejection can also occur in the earlier stage if KUCCPS reviews the reason for transfer accompanied by the documents and finds it unsubstantial.
Step 6: Endorsement by releasing institution.
Upon successful endorsement of transfer of a student by the receiving institution, the releasing institution is obligated to endorse the transfer and hence allow the student to be admitted in their preferred institution. This process could take a day or two to be completed
Step 7: Review by KUCCPS
Once both institutions have endorsed the transfer, KUCCPS will review your application again for approval. KUCCPS does this to ensure only the necessary cases are considered. It takes about 14 working days for KUCCPS to review your application courtesy of a large number of transfer requests.
Step 8: Provision of Transfer Letters
Upon approval, KUCCPS will award you a transfer letter. You can download it online from the portal and present it to your new institution during admission.
Things to Note.
It is not a guarantee that an inter university transfer application will go through. There are many factors in place so don't be surprised if rejected. Nonetheless, it is worth trying.
If you have successfully applied for KUCCPS transfer, you must wait for the institutions involved to respond to your application no matter how long it takes. You can follow up with their offices but you will probably be told to wait for them to process. Be patient
All the best.