I used a computer for the very first time as early as class five.
Yet despite this early introduction I never really understood the importance of a computer and the infinite possibilities it offered until I graduated from high school.
Mum had bought a laptop, which she rarely used. So I made it my girlfriend; spent countless hours caressing its keyboard and touchpad.
Besides watching movies and series, I toyed with it. I launched every program I could access, used the internet to learn how to do stuff and in the process discovered what a marvel it was.
My passion for computers grew, and even if I joined the university to pursue a different discipline, my heart never left there.
I dived into ways of making money online and soon enough I made my first $100. It was fantastic, getting that Google Cheque from my mailbox and bouncing like a king to the bank to withdraw my first online earnings.
Nowadays it has become a norm, it no longer feels as exciting. Yet the one thing I attribute this journey to was the fact that my dad let me discover computers early, a privilege many Africans never get.
And that's where computer packages come in.
What are basic computer packages?
Computer certificate courses are the bridge for young people who never had a chance to use computers while they were young.
They are meant to provide learners with basic practical knowledge of using a computer, an indispensable skill in today's world. You are highly disadvantaged in the job market if you don't know how to use a computer.
Some basic IT skills taught in computer packages include typing, navigation, files organization, presentation, use of tables to organize data, communication, and surfing the internet.
If you have a good grasp of these skills, you can take advanced computer packages.
Advanced courses are meant to equip you with knowledge and skills to create anything out of a computer. You cannot perform advanced tasks without soft computer skills.
These courses teach you IT skills such as; programming, software development, image editing, graphics design, web development, database management, and online marketing among others.
Generally, computer packages take between 1 week to 12 months depending on the level and type of package. Most packages, however, are packed into 3-month programs.
Today's biggest and most successful companies attribute their achievements to advanced computerized technology and hence having advanced computer skills sets you ahead of the rest.
Now, what are examples of basic and advanced computer packages that will open doors for you?
Best and Most Important Basic Computer Packages
If you are considering undertaking computer packages make sure they have most if not all of these courses.
Microsoft Windows: Learn to use Microsoft Operating System; the most widely used operating system in the world and by far in Africa. This course sets the foundation for learning anything about computers. You cannot miss this if you have no previous knowledge
Word Processing with MS Word: You cannot be computer literate if you don't know how to write articles and compositions. Since MS Word is the word processing software used in Microsoft Windows, you must learn how to use it.
Spreadsheet using MS Excel: Remember the times you use to organize points and numbers in tables? Well, spreadsheets help you do so on a computer. Also, it allows you to organize and manipulate data in whatever way imaginable. Using Ms. Excel is indispensable especially for those planning to work in accounting and data processing fields.
Graphic presentation using MS PowerPoint: Have you ever done a presentation in front of an audience? Graphic presentation enables you to organize your work in a presentable manner so that you can guide an audience through your work.
Database Management using MS Access: Managing data might be a premise for a few but knowing how database management works is essential for everybody. I haven't used MS Access for years but the brief idea I have of the software applies a lot in my online work. This course isn't a must but you should try it out
Keyboard Typing: Nothing sucks like spending close to a minute looking for a letter on the keyboard. Unfortunately, we all go through this stage in life. That's why you need to practice faster typing. You don't necessarily have to pay for a computer package. You can download a free typing training software like Type Faster (My Favorite) and start practicing.
Internet Communication and Browsing: The internet runs the world and for most people, it has become a basic need. It is therefore unthinkable to even imagine a life without skills of navigating the internet. You will greatly shortchange yourself if you don't learn how to use it.
Additional basic computer packages worth mentioning
Personal Information Management Using MS Outlook: learn to manage email, contacts, calendar, journals, notes, and browsing data
Desktop Publishing using MS Publisher: learn to create professional documents such as newsletters, postcards, flyers, invitations, brochures, and more using built-in templates. This unit can also be considered an advanced computer package.
PC Troubleshooting: learn to fix your computer when you encounter problems.
Computer Networking: learn how to computers are connected to share information and resources.
Software Installation/Uninstallation: simply learn how to install and uninstall programs
Best and Most Important Advanced Computer Packages
Once you have the basics on your fingertips, you can easily undertake more advanced courses and be a guru in any of them. Advanced computer packages are aimed at specialization. They allow a student to delve deeper into a specific area and become experts in it with enough practice.
1. Computer-Aided Graphic Design
If you love art, then this might just be your thing. This package equips you with the skills to create art using a computer. You are exposed to some of the most popular graphic design software such as Corel Draw, Adobe Illustrator, Photoshop, InDesign, and MS Publisher.
These programs will help you create graphical representations of your creative ideas. Businesses demand Graphic Design experts to make their advertisements impactful.
2. Computer-Aided Design
This computer course equips you with the skills to design models of actual products, infrastructure, machines, etc. Students learn to build representations of actual systems and manipulate them without tampering with the real systems.
Software taught under this section includes AutoCAD, ArchiCAD, 3D Studio MAX, Piranessi, etc. CAD courses are absolutely necessary for students planning to take engineering courses at university.
3. Web Design and Development
Web developers build the internet. They organize every information or content you see on the web in an understandable manner; with easily navigable pages.
This package exposes you to the technical coding that goes behind the development of websites.
You learn programming languages such as HTML, CSS, PHP MYSQL, and JavaScript among others. You also learn to use Adobe Fireworks, Dream Weaver, Flash Builder, Flash Professional, etc.
4. Computer Programming
Computer packages in programming teach you how to write instructions that a computer can execute.
It majorly deals with creating programs through writing lines of codes which could go to millions in numbers depending on the program. Web development which we mentioned earlier is a form of computer programming.
Popular programs you should choose to undertake are; Python, C++, Java, Ruby, C#, and JavaScript. Proficiency in these programming languages will make you a highly demanded person.
5. Accounting and Finance Packages
Taking a computer package in accounting can be the reason why a company would drop an accounting degree holder and pick you.
Although most operations have been computerized and automated, only a few people understand how accounting software works.
With accounting computer packages, you learn to use QuickBooks, Sage Pastel, MS Navision, Tally, and Zoho Books which are some of the most popular accounting programs used today.
6. Statistical Packages
These are courses equip you with the skills to use statistical software to perform statistical analysis and data exploration. Such programs include; SSPS, SAS, R, Stata, and JMP.
Mastering these programs requires hours of practice and patience but once you become an expert, opportunities will present themselves on your door.
Many businesses are employing statistical analysis services to make sense of data and use it to increase income, grow, and expand into other fields.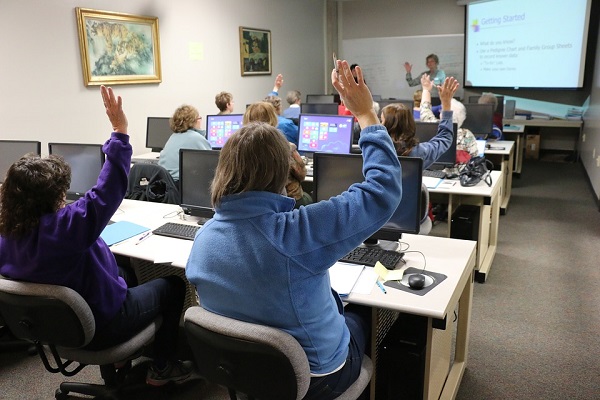 Where to learn computer courses
There are thousands of institutions in Kenya claiming to be offering computer packages. Most of these schools are simply jokers. You get no value for your money. Why
Teachers don't attend lessons
They lack computers and other learning resources
They lack licenses to offer computer training
Imagine going for an interview and presenting a computer package certificate to prove your knowledge in web design and development only to be told your certificate is not valid because you acquired it from an unaccredited institution.
Paying for computer training in any kiosk that says "Computer Packages" is a huge mistake. You will waste your hard-earned money, fail to get good training, and eventually, your certificate won't take you anywhere.
These are the recommended places to get computer training
Colleges accredited by the Computer Society of Kenya to offer computer training.
Universities and Colleges
Online platforms such as Coursera, Alison, and Edx.org
The Computer Society of Kenya is the recognized association for Information, Communication, and Technology industries and professionals in Kenya.
One of CSK's major functions is to accredit institutions that offer computer training. These institutions must demonstrate high-quality services and the capacity to provide computer packages before they are accreditated.
Approved public and private universities and colleges which have already established credentials in offering diplomas, degrees, masters, and Ph.D. programs tend to offer great computer certification programs.
Lastly, anybody can learn computer packages online. There are very many free tutorials and resources available on the web for every topic imaginable. You can use these free resources to learn whatever computer package we have discussed.
If you need proof of your course undertaking, you should enroll for a course with a reputable online learning platform like Coursera and Edx.org and purchase a certificate upon completion of the course.