One document you'll probably have to produce when applying for a job in Kenya is a HELB certificate, even if you didn't benefit from the student loans financing program.
Ideally, it's deemed necessary for employers to know how much they can trust you with credit resources. HELB clearance or compliance certificates offer proof even to CRB agencies that you are trustworthy.
There are two types of HELB documents, which serve this single purpose. The HELB compliance certificate is awarded to HELB beneficiaries who are paying their loans. On the other hand, the HELB clearance certificate is given either to beneficiaries who have completed loan repayment or non-beneficiaries who require loan clearance.
Traditionally, you had to visit the Anniversary Towers in Nairobi in order to get either of these documents. Two years ago things changed for a bit when Huduma Centers got equipped to provide the documents. Currently, however, most Huduma Centres ask customers to visit the main offices.
So, how exactly can you get your HELB clearance or compliance certificate?
Beneficiaries
For Kenyans who obtained HELB loans during their time in college or university, the process is a little involving.
To get the HELB compliance certificate,
You need to first ensure that you are making regular repayments of your loan.
Hence, you cannot get a compliance certificate in case you have defaulted payment since graduation. Only HELB has the ability to provide you with this certificate so you need to consider finding a way to start repaying the loans despite how little your installments will be.
Even at this very moment with as little as Ksh 100, you can pay your HELB loan through M-Pesa as follows;
Go to M-Pesa
Select Lipa na M-Pesa
Choose Pay Bill
Enter HELB business number: 200800
Enter your national ID number as your account number
Enter amount: 100
Enter PIN number
Confirm the transaction and send
As simple as that and you are 100 shilling debt-free. You will receive a text message from HELB with a transaction code, confirming your payment. It is advisable to keep a record of this message in case issues arise in the future. This is Kenya.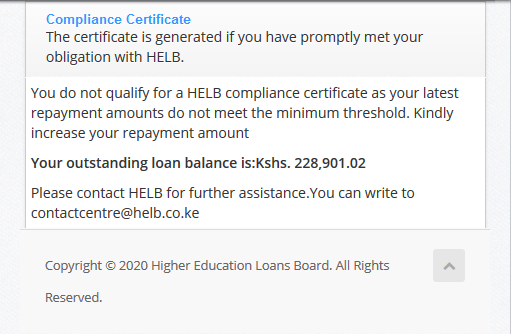 If you have been paying your loan as per HELB requirements, you can apply for your HELB compliance certificate online using the same procedure as a non-beneficiary applying for a certificate as indicated in the non-beneficiary section.
To get the HELB clearance certificate,
First, ensure you have completed loan repayment.
Visit any the main offices at Anniversary Towers, Nairobi, ask for an Enquiry form for HELB clearance which you are required to fill. Also, you can download the Enquiry Document PDF from the Publication section of the HELB website, print and fill it.
Once you are done, submit this form to officials together with the following
Copies of High school leaving and academic certificates
Copies of University/College transcripts and graduation certificates
Photocopies of National I.D (both sides)
Copy of Employer appointment letter
A bank deposit slip of Ksh 1000 payable to HELB Operations Account which you should ask for while picking the Enquiry form.
Normally, it takes about one day for the clearance certificate to be ready if all conditions are met.
Non-Beneficiaries
For non-beneficiaries however, everything has been automated through using the internet. All you need is a computer or laptop and a good internet condition to start the process.
On 16th July 2020, HELB waivered the Sh 1,000 clearance certificate fee for non beneficiaries after discovering through engagements with stakeholders that the fee was punitive especially to the many unemployed youth who did not benefit from the student loans.
Henceforth, non beneficiaries will be able to download HELB clearance forms from the portal for free but they must create an account as follows.
1. Create your HELB Profile
Visit the HELB Portal
Click User Registration on the top Menu
Input your ID and your first name as directed
Click Validate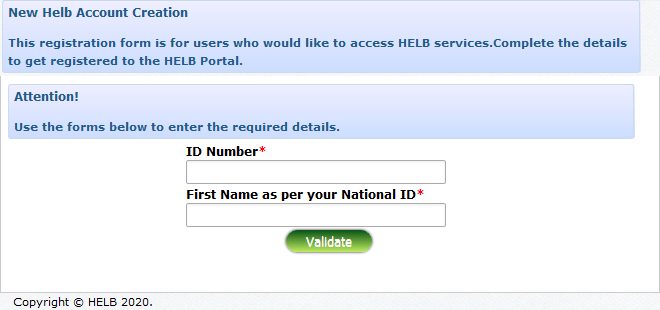 Once your ID number and Names have been validated, a new form will appear.
Fill in the details: Phone Number, Email and Password
Click Signup.
Log into your email and click the confirmation link sent by HELB.
Your account will be activated and you'll be redirected to the HELB login page
2. Log in and update your details
Input your Email Address and Password.
Click Login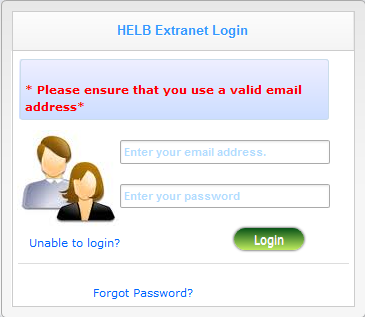 You will be presented with a long form where you input all your personal details. Sections marked with a red star are compulsory while the rest are optional.
3. Apply for the Compliance Certificate
Once you save the completed form, you will be redirected to the HELB Dashboard.
Go to Online Services in the Top Menu
Select Compliance Certificate from the drop down list.
Follow the instructions provided to apply for your HELB Compliance certificate
Be patient and wait for your document to be sent either through Email or by downloading it from the portal.
That's all.
Meanwhile, if you trust the traditional system, you can follow the process for beneficiaries outlined above but make sure you include a letter confirming that you did not benefit from HELB loans among the documents you will be submitting.