Did you know that you can check HELB loan balance via SMS? Are you also aware that you can easily start your HELB loan repayment using M-Pesa? Lastly, have you heard of the HELB app?
HELB has made moves to make services acquisition by customers a little easier using SMS technology, mobile payments and phone apps. Although the only sure way of getting fully served involves visiting their offices, the means below add to your convenience
How to check HELB loan balance via SMS
HELB introduced an SMS service back in October 2012 which enabled customers to not only check their HELB balances on the phone but also perform a number of other activities.
You simply create a message with the keyword corresponding with the matching query followed by # and your ID number and send the message to 5122.
Unfortunately, the service doesn't seem to be working and the only record available is this Facebook post made on 22nd October 2012
The keywords were as listed below
| | |
| --- | --- |
| KEYWORDS | NATURE OF QUERY |
| BALUG | Your undergraduate loan balance |
| BALPG | Your undergraduate loan balance |
| CERTCLEAR | Your clearance certificate status |
| APPSTATUS | Your loan application status |
| SEMESTER | Whether your last loan Semester is paid |
| SSP | whether your tuition is paid for SSP |
| NEWS | Latest news about HELB |
| LASTPAY | Latest disbursement from HELB |
| REGISTER | Register |
For Instance, if you wanted to check HELB loan balance, you simply had to type
"BALUG#30000007" and send it to 5122. Replace 30000007 with your real ID.
But before anything, your name and ID needed to be registered in the HELB database in order to receive services through this SMS method.
This service costs Ksh 10 for every SMS. However, as earlier mentioned, it seems not to be working currently.
Alternative method to check HELB Loan balance using your phone
If you have ever tried logging into the HELB portal before using a phone browser, you must have noticed that the website isn't responsive.
By this I mean, words and pictures are not well distributed on the page, hence you can't easily access information.
HELB however, decided not to deal with their unresponsive website and instead developed a simple HELB app for that purpose. The app isn't as powerful as it should be since most features aren't available.
To download the app, visit google play store and search HELB App, or simply click HERE
Once you have installed the app, you will be prompted to input your phone number to enable validation.
Then set a pin, input your details which include your First name, Id number Email Address and KRA number in order to log in.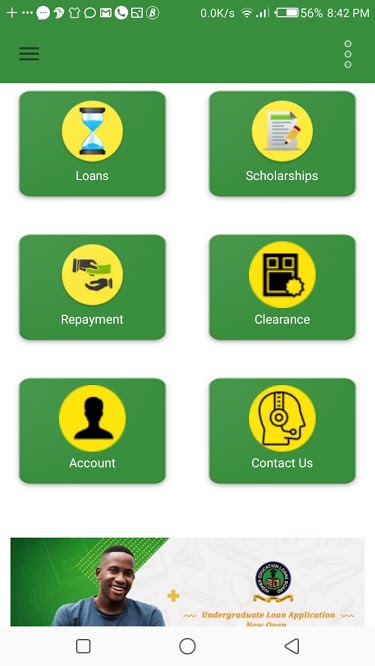 To check your loan balance simply tap the Repayment section and select loan balance. Also, you will see a Repay Loan button below your loan balance through which you can pay your loans.
Why you should start paying your HELB loan, seriously,
While playing around with the HELB app, I accessed the provisional mini-statement of my HELB loan status and realized why I really had to start paying my loans.
First, every beneficiary has a required amount of money they must pay per month as soon as their last academic year elapses. The monthly charge seems to be slightly above 10 percent of your yearly disbursement.
For instance, if you were getting Ksh 40,000 per academic year, your minimum HELB repayment amount per month is Ksh 4,100. Failure to do this attracts a penalty which by the way is a whooping Ksh 5000 for every month failed, according to a credible source.
Also, you get blacklisted in the CRB.
The whole story about loan beneficiaries being given a one year grace period before being required to pay their loans might just be faux. Personally, my outstanding penalty stands at 4998 and only graduated last year in December. This is early February.
Secondly, the monthly interest which although seems minimal is compounding very first. HELB interest rate is currently at 4% per annum.
Considering these factors, If you extend your repayment period over decades, you are very likely to pay more than twice the amount of loan you received.
So it is very advisable to at least make a payment every month to expedite your race to freedom from HELB loans.
How to pay your HELB loan using M-Pesa
You can start paying your student loan through M-Pesa which is pretty straight forward
Go to M-Pesa
Select Lipa na M-Pesa
Choose Pay Bill
Enter HELB Pay bill number: 200800
Enter your national ID number as your account number
Enter amount: 100
Enter PIN number
Confirm the transaction and send
Finally
HELB loans were fun back in university because for most it was free money for no particular use. Many didn't use it to add value. Personally, I don't even remember how I used HELB loans for the whole time.
However, when you are released to the world, HELB loans if not well managed will stalk you for life. Most of our parents are finally becoming HELB debt-free today; more than 20 years since they graduated.
Would you want to pay a loan for 2 decades?