It's about time you do the one thing you've dreamed about since you were a kid; drive. I know you're excited. You cannot wait to get behind the wheel. Whether It's your car or someone's car, the responsibility of steering that vehicle on the road without causing accidents can make you feel overwhelmed.
So you want to make sure you get the right training and confidence before getting on the road. If trained by your parents or colleagues and practiced off-road, you might already have the confidence. But you need that driving license not to get into trouble.
Now, let's find out the best driving schools in Kenya. These institutions have built a reputation in driver training in the country. Meanwhile, many unregulated driving institutions have sprouted in the country; hence you want to make sure you stick by reputable institutions.
Top Driving Schools in Kenya
1. AA Premier Driving School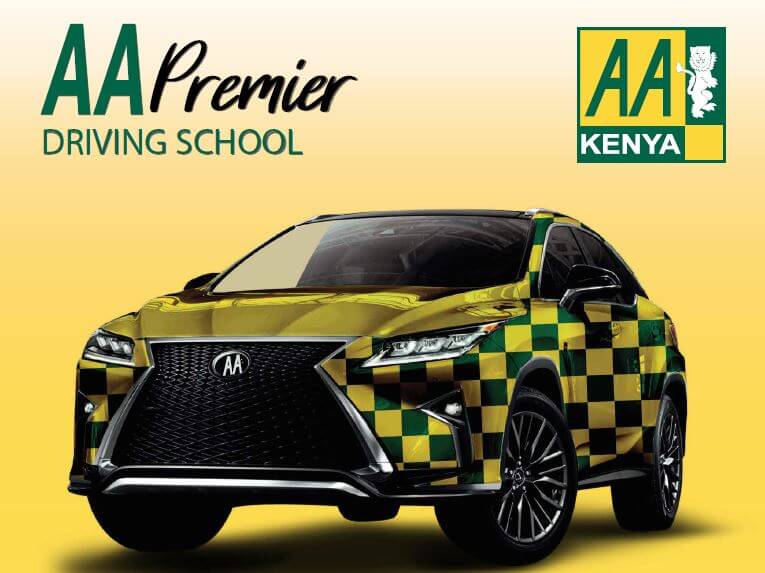 Automobile Association of Kenya Driving School is the oldest driving institution in Kenya, founded in 1962. It is the most respected institution due to its commitment to safe and responsible driving and is affiliated with African automobile clubs.
Its training is conducted by government-certified and licensed instructors who contribute to the AA Driving Manual, an internationally recognized reference book for driving training.
AA of Kenya recently unveiled a driving test app that helps students and the general public prepare for the NTSA Government Driving Test at the Driver Testing Unit after completing the recommended Driver Training Course Curriculum. It's also the premier college for defensive driving training.
Fees: AAK Driving school offers two levels of driving courses; Learner driver course intended for new drivers and Refresher Driver Course intended for experienced drivers.
The Learner driver course fee ranges from Ksh 7,830 for Fresh beginner level motorbike training to Ksh 14,830 for Endorsement Public Service vehicle training, all-inclusive of the NTSA fee of Ksh 2,050
Meanwhile, the Refresher Driver Course fee ranges from Ksh 5,500 plus Ksh 500 additional fee for regular motorbike retraining to Ksh 23,000 plush Ksh 1,200 additional fee for premium trucks and buses training.
Location: Its headquarters are located Renaissance Corporate Park, Upper Hill, Nairobi. AAK driving also has numerous branches spread across the country in towns such as Nairobi CBD, Nakuru, Mombasa, Machakos, Chuka, Nyeri, Meru, Embu, Nanyuki, Karatina, Kitui, Naivasha, Kitale, Thika, Kericho, Kisumu, Kisii, and Kakamega
Applications: To apply, dial *650# and follow the instructions. You can also visit the institution's website at aakenya.co.ke, click on Online registration and complete the application form. For further inquiries, visit the ever-active AA Kenya Facebook page.
2. Rocky Driving School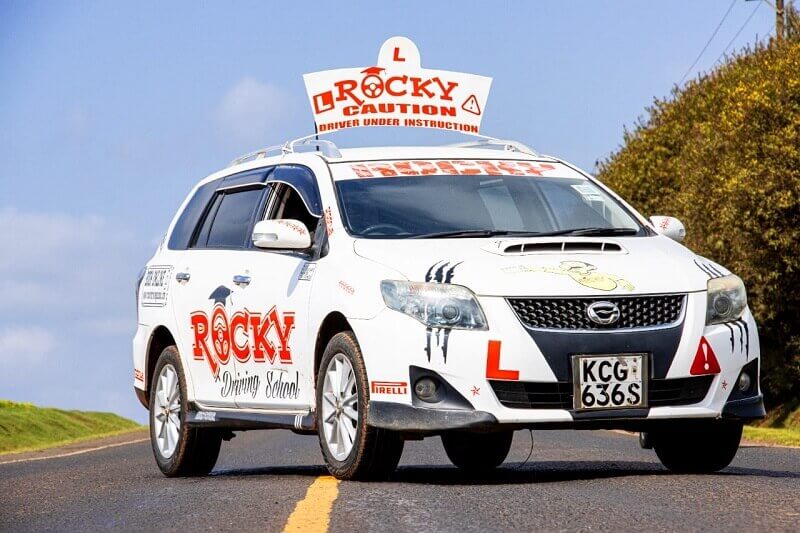 Rocky was the poster child of driving schools, courtesy of its lovely advertisements that graced TV Stations in the early 2000s. Its reputation, however, precedes it, making it one of the best driving institutions in East Africa.
Rocky Driving School was founded in the early 90s to provide professional driving lessons and driving instructor training in Kenya. It prides itself as one of Kenya's largest national driving schools, having enrolled over 1 million students since inception.
The institution offers all levels of driving training from Category A (motorcycle) to F (Persons with Disabilities), all of which are accredited by the NTSA. Its courses are flexible enough to accommodate different schedules, available all year round, including weekends, and offered by government-certified professionals.
Fees: Rocky's fees start from Ksh 11,850 for motorcycle training to Ksh 34,850 for heavy truck training. It also offers specialized training for people with disabilities based on their requirements and whose fees reflect the standard fees. Refresher courses go for Ksh 5,000 (manual) or Ksh 6,500 (automatic).
Students must attend full-day (8 am to 5 pm) training and practicals for one month (a minimum of 38.5 hours to 102.5 hours) to qualify for issuance of certificate by NTSA.
Location: Rocky has over 43 branches, making it the largest driving institution in Kenya. Over ten branches are located within Nairobi and its satellite towns; Harambe Avenue, Industrial Area, Upperhill, Buruburu, South C, Rongai, Ruaka, Donholm, Ngong Rd, Kasarani, Eastleigh, and Kitengela. Other major towns include; Kisumu, Eldoret, Kisii, Kericho, Nakuru, Thika, Kangemi, Narok, Meru, and Embu. It also offers online classes for remote learning.
Applications: To apply for Rocky Driving School courses, Visit the Online Registration Page and fill out the form provided. You can also apply by calling 0702 55 22 22 / 0704 77 33 00 / 0700 66 77 77 Or email: info@rockyschool.co.ke. For inquiries, visit the Rocky Driving School Facebook page.
3. Petanns Driving School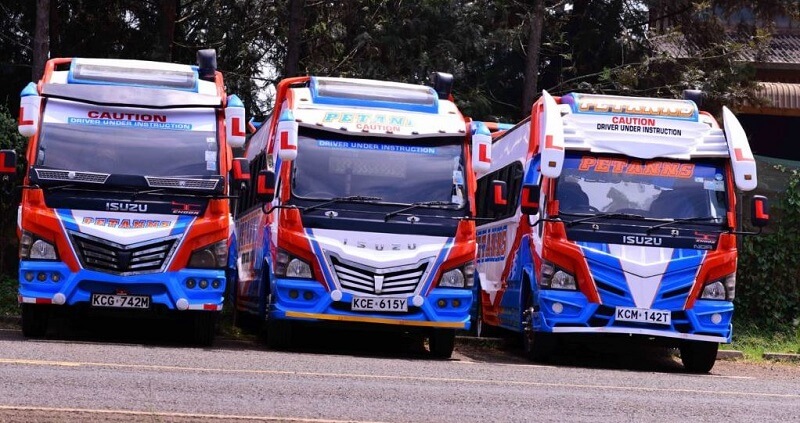 Petanns Driving school took the TV advertising mantle from Rocky in the early 2010s and has built a reputation as one of Kenya's big five driving institutions. With over 100 branches spread across the country, it is the largest driving institution by footprint.
Petanns has won 3 awards: AKI award as Best Road safety promoter, Automotive Excellence Award as the MOST Preferred Driving School, and Digital Inclusion Awards as the BEST Driving School in the use of digital solutions. It is considered the most successful driving school and a worthy competitor to Rocky and Kenya.
The institution offers a wide range of driving courses, including industrial, construction, and agricultural machine operation training, defensive training, and fast aid courses, besides the formal driving training.
Fees: Petanns Driving school fees start from Ksh 7,500 for Category A (Motorcycle) training up to Ksh 45,000 for Category G (Plant Operator) Training. Courses are distributed into 10 or 20 lessons structures which may take up to 3 months to complete.
Locations: Petanns Driving School has over 100 branches in 12 counties across the country. Nairobi and Kiambu counties have the most number of Petanns branches; over 40. Other major towns with a Petanns branch include; Naivasha, Nakuru, Muranga, Kerugoya, Embu, Nanyuki, Machakos, Nyeri, and Meru.
Applications: To apply for a course in Petanns Driving College, visit Petanns Website and fill out the registration form. You can also call 0721328383, 0706212103, or 0705050504 and make your reservations. Alternatively, send an email to elearning@petannsdrivingschool.co.ke
4. Heltz Driving Academy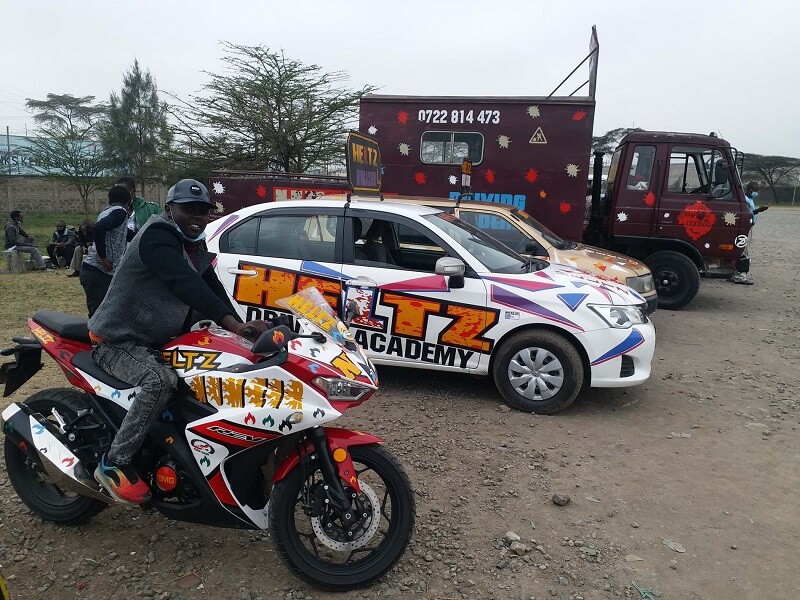 Holtz Driving school has been around for over 35 years and has built a reputation for responsible and competent driving within Nairobi. The institution offers professional and friendly local driving training from various certified instructors to ensure all students enjoy the learning process.
It offers a select number of courses which include; Class A (Motorcycles), Class B (Cars), Class C (Trucks), and Class D (Vans), which they have specialized in to provide high standard instruction.
Besides theoretical driving lessons, Heltz also offers theory video classes, basic mechanics, First Aid, Assessment Test, Car Hire, Driving Test, and Certificate of Competency.
Fees: Heltz courses are affordable, starting from Ksh 4,000 for Class A, Ksh 12,000 Class B, Ksh 12,000 Class C, and Ksh 6,000 Class D. Refresher courses cost Ksh 700 per individual.
Locations: Heltz Driving School operates in Nairobi County with the HQ located at Tom Mboya Street and branches in several places, including Harambe Avenue, Westlands, Industrial Area, Donholm, Embakasi, Umoja, Ruaka, Ngara, and Utawala.
Applications: To apply for Heltz Driving courses, visit Heltz Website and fill out and submit the registration form. You can also call 0202223325 or 0743552541 or send an email to heltzdrivingschool@gmail.com
5. Seniors Driving School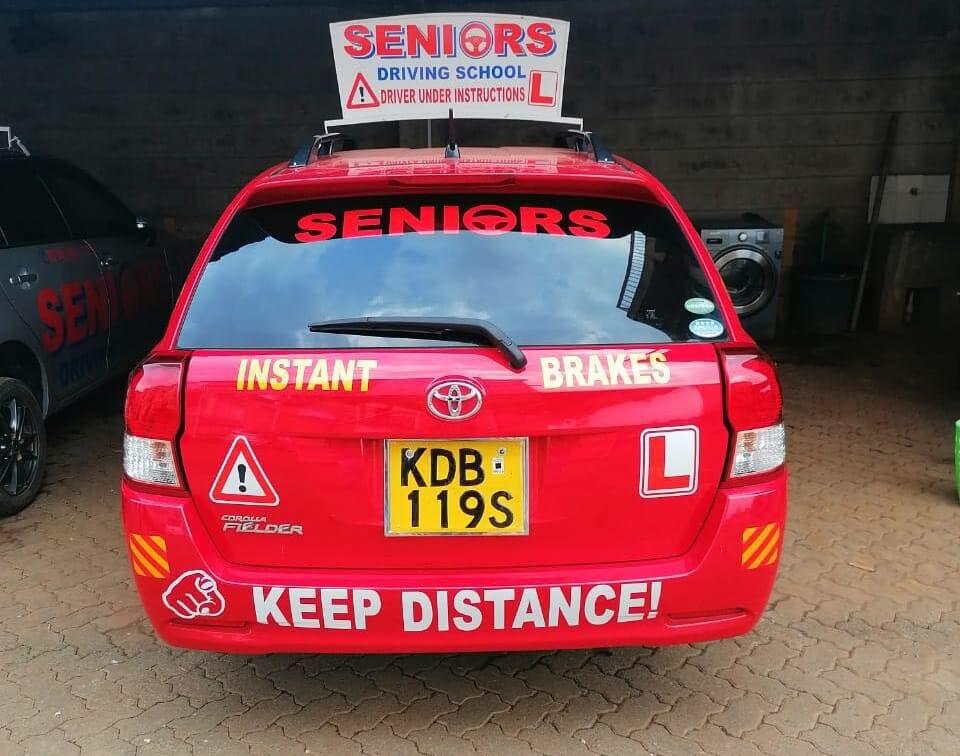 Seniors Driving School is on a mission to improve the quality of our road usage by instilling a sense of civility, discipline, and respect to the law when using roads through their comprehensive, highly rated courses offered across the country.
Due to its contribution in the driving training sector, Seniors has won several accolades, including the Road Safety Award by The Association of Kenya Insurers in 2011 and Presidential Citation as a distinguished taxpayer in 2010.
Fees: Seniors does not reveal its driving courses free in the public domain, but you can get a quotation upon inquiry or by visiting one of its branches. Courses offered include; Class A, B, C, and D.
Locations. Seniors Driving school is located strategically outside Nairobi CBD for students to benefit from a traffic-free environment during training. Some satellite towns you can find a branch include; Dandora, Kariobangi, Mathare, Buruburu, Huruma, Athi River, Kitengela, South B, Mlolongo, Jogoo Road, Kayole, Ruai, Umoja, Juja, Thika, Ruiru, Kangemi, Kawangware, Kikuyu, Limuru, Rongai, Kiserian and Langata, etc.
Applications: To apply for a Seniors Driving course, call 0729461713 or the branch contacts provided on the Seniors Website. You can also send an email to info@seniorsdrivingschool.co.ke for further instruction.
6. Topaz Driving College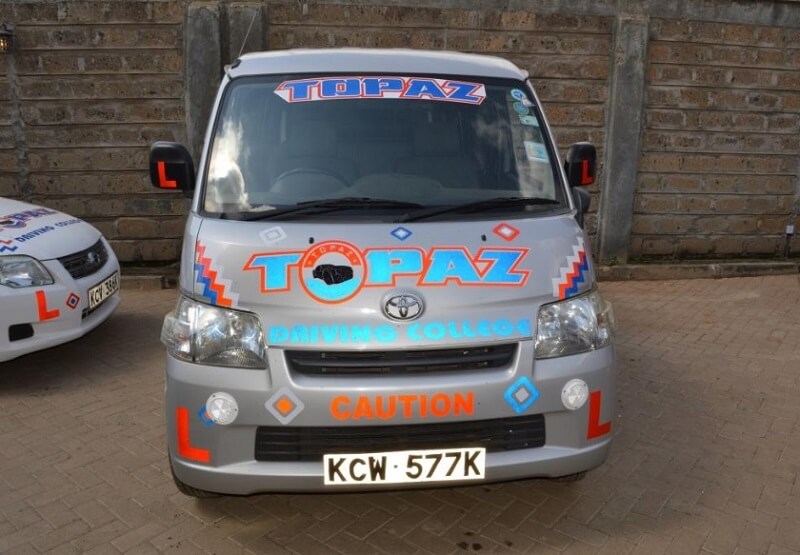 Another reputable driving school, the pride of its origin town Ruiru, is Topaz which has rapidly grow over the past decade and expanded its footprint, offering good competition to the top players. The institution is on a mission to become the leading provider of driver training.
It is fully accredited by the NTSA (National Training and Safety Authority) to offer driver training across the country. It currently has branches in only four counties; Nairobi, Kiambu, Muranga, and Nakuru.
Fees: Topaz driving course fees start at Ksh 5,000 for Class A (Motorcycle), Ksh 10,000 for Class B, Ksh 12,000 for Class C, and Ksh 8,000 for class D. Refresher Courses start at Ksh 500 per lesson.
Locations: Topaz Driving College has branches in Juja, Thika, Gatundu, Limuru, Ruaka, Kiambu, Githurai, Kahawa West, Kasarani, Kayole, Utawala, Buruburu, Ruai, Zimerman, Murang'a, Mukuyu, Kabati, Naivasha and Gilgil.
Applications: To apply for a Topaz Driving course, visit Topaz Website and Fill out and submit the application form. You can also call 0703555111 and book an appointment or send an email to info@topazdrivingcollege.co.ke.
7. Top Gear Driving School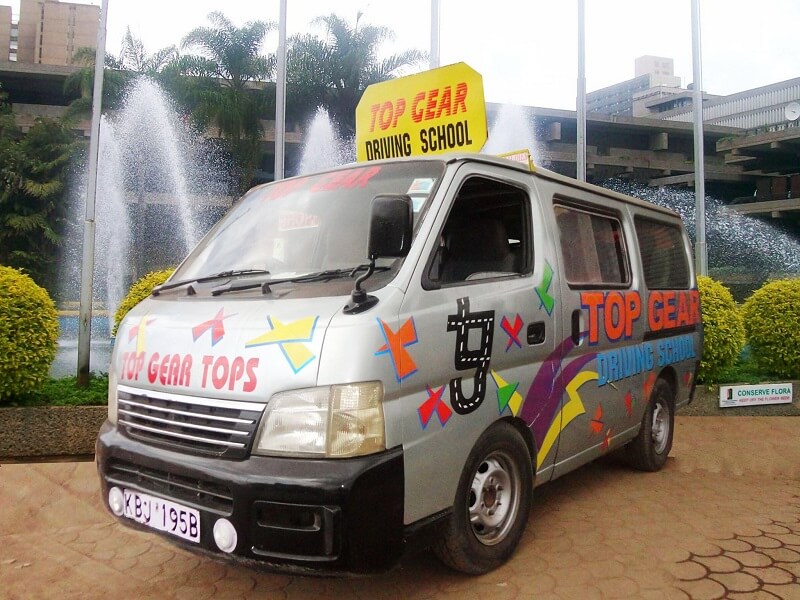 Top Gear prides itself as one of the largest and most progressive driving schools in Kenya. It is mostly invested in Nairobi County, where most of its branches are located. It offers both driving training and instructor training.
Its mission is to provide training in driving and other aspects such as road safety, maintenance, and basic mechanics. To help students settle in, it offers two lessons for the price of one. If you're in a hurry to pass your test and get on the open road, Top Gear offers an option for intensive driving lessons.
Top Gear has won several accolades, including; Safety Award of 2019 and Outstanding Driving School Award of 2019
Fees: Top Gear has an array of courses with standard fees starting from Ksh 5,000 for Motorcycle training – theory and test, up to Ksh 13,000 for Class B/C combination full course.
Locations: Top Gear has several branches around Nairobi, which include: Tena Estate Outering road, KTDA Plaza Nairobi city Centre, Buruburu Kenol petrol station, Ongata Rongai (*New branch), Donholm, Pipeline, Industrial Area, Dandora, Buruburu, Savannah, Zimmerman, Ruai, Utawala, Umoja, Congo, Ruiru, Kawangware, and Githurai.
Applications: To apply for Top Gear Driving courses, call 0722784235/0702710308/0720 259553 or send an email to info@topgeardrivingschool.co.ke. You can also visit the Top Gear Website for more information on the courses offered and fees.
What to consider when choosing a Driving School
Contrary to what many people believe, it does matter which driving school you attend. Being ignorant of the many things that might go wrong if you get training from unqualified and non-accredited institutions can be costly. Imagine losing your license and having to pay to repeat a driving course. Sucks right.
So here are the things to consider before enrolling in any driving course
1. Testimonials.
Research on the internet for reviews and comments about the institution. Some institutions have garnered a good reputation for their exemplary customer service and kindness to their students. Others have staked bad reviews for years. You don't want to quit halfway because of a grumpy instructor.
2. Proximity of College.
Location is Key. Imagine enrolling for a driving course in Nairobi CBD, where you have to incur transport costs every day only to find out an equally reputable driving institution a walking distance away from home. Use Google maps to identify close branches of reputable driving schools and enroll.
3. Cost of courses.
While most institutions charge standard fees for their driving courses, if you have a very tight budget and would highly appreciate a good deal, compare the prizes for closely located institutions and choose the one that's the best deal. However, this is only applicable in major towns where there are several colleges to choose from.
4. Flexibility.
I assume you've got other things to do. Studying or hustling. So taking a driving lesson will not be your full-time job. You ought to find an institution with a flexible schedule to accommodate you. There's no need to rush, even if you have prior experience. Good training requires well-planned training.
5. Accreditation.
You cannot afford to compromise on this. The institution you select must be accredited by the NTSA. Also, your driving instructor should be accredited. While driving isn't a technical skill, you need assurance that whoever is guiding you has is best suited to offer the right training.
6. Insurance and Safety.
What if, during a driving test, you run into a tree or hit someone? You'll have to incur the cost of the damage to the vehicle and the victim. But if your training college has insurance, that cost will be catered for, and you can have an easy time getting out of the mess. So why not ensure that your driving college is insured.
Conclusion
As you embark on your journey to learn how to drive because you're hopeful you'll be owning a car soon, make sure you start on a good foot by getting the training from an accredited, reputable, and insured institution with a branch close to you, good prices and flexible schedule. All the best.